Our customers love our products!
This page is under construction. Please check back for more testimonials.
After my mare had her foal, she had difficulties maintaining her weight, specifically on her top line. I had tried so many different grains and feed programs, but was at a loss both economically and without results. 
I made the decison to try EOC®. I had heard a lot of great reviews about it and felt this was an opportunity to see that what this product could do. 
I can, without a doubt, say within 3 months my mare was back, looking better than she had before. This stuff is magic! Not only is it a great option economically, but it keeps things simple….Thank you, thank you, thank you!
– Sara Da Silva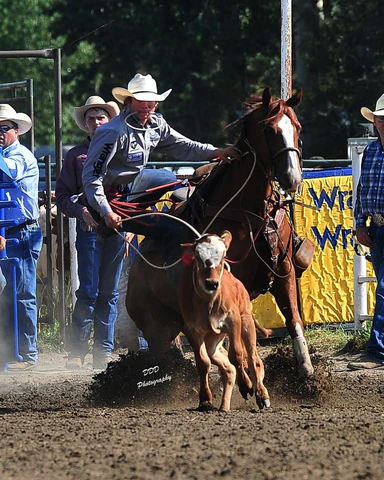 Equine Omega Complete is a great all-in-one supplement, resulting in significant savings over the years with our year-round rodeo schedule.
It keeps the horses healthy, strong, stress-free, and eating on the road with amazing appetites.
– Clay McNichol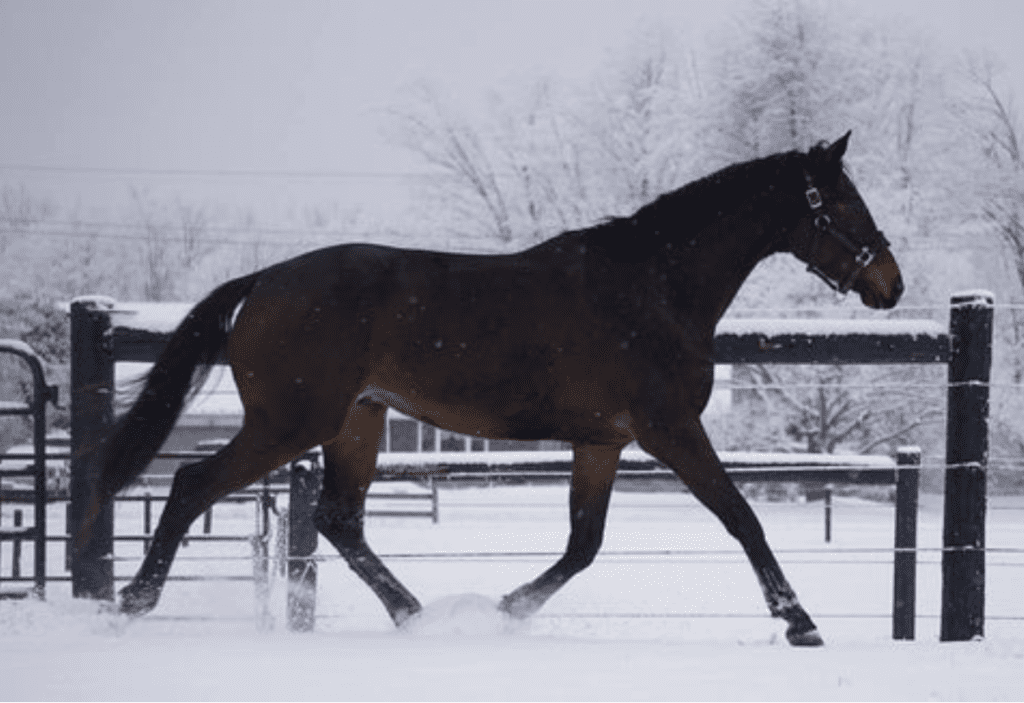 I have had my horse on your product for about five months, and in that time, he has grown a lovely healthy coat and gained weight…Just want to thank you for this wonderful product and the health of my boy!
– Grace Kent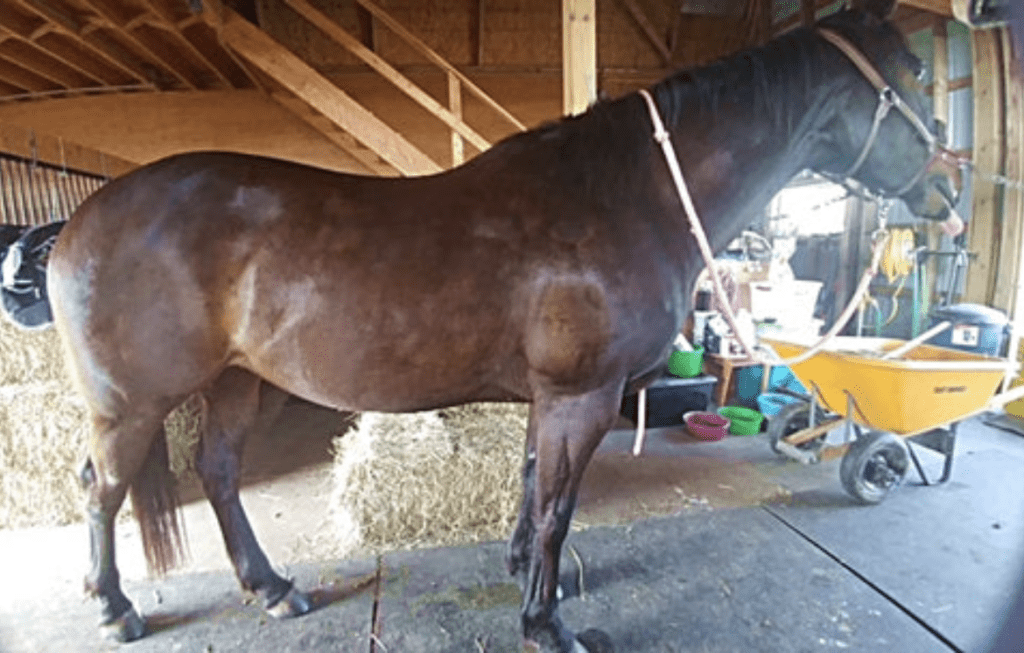 This is a picture of a Ratchet, a 16-year-old horse, a retired jumper who had difficulty keeping weight on and would colic every 8 weeks. He had horrible stomach issues. 
I started him on Equine Omega Complete® because I had tried other products, but nothing worked. 
To my surprise, he has put on amazing weight and muscle.  He dapples all the time and holds weight all year. His hooves have no more issues, and he is happy and healthy. Thanks to EOC®, my horse has not had any colic issues since we started him on it, I can't say enough about this great product!
– Jamie Berry
I can't believe the changes in only one month! I didn't believe this oil would help clear up my mare's mud fever, but it's helped a lot in a short period.
I'm pleasantly surprised! This helped when ointment didn't. Thanks, Robin!
– A Happy Customer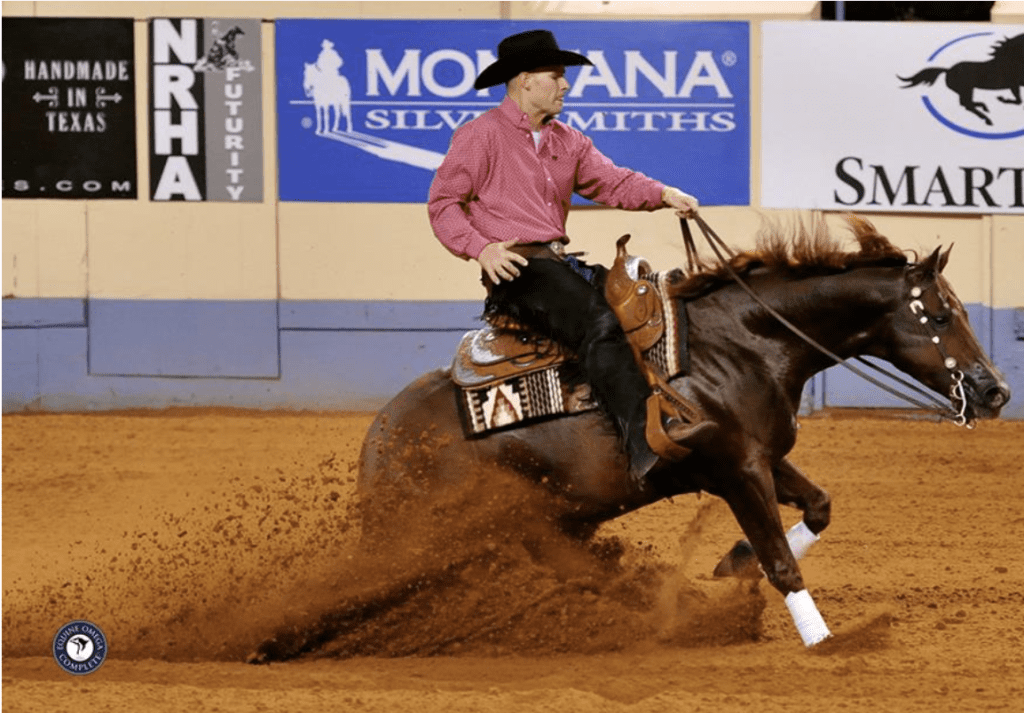 We've only been using Equine Omega Complete® for a short period of time, and are already able to see the benefits in the physical condition of our horses. Not only are they looking good, but they are continuing to stay focused and quiet.
– Jason Vanlandingham Reining Horses
My 14-year-old Trakehner mare, Tequila ("Tiki"), has benefited extensively from the addition of Equine Omega Complete® (EOC®) – (administered as recommended on the bottle), and was not given with any other supplements or medications. 
Tiki had minor ulcers identified during a scope exam, and she was high-strung, irritable, and inconsistent in her behaviour under saddle. 
Adding EOC® (only) to her grain resulted in an improvement in ulcers, as well as a significant improvement in her apparent comfort. The frequency of coughing at the beginning of exercise was reduced noticeably; she appeared happier and more friendly, her coat grew in with a healthier shiny appearance, and overall her mood and disposition seemed to improve.
I am very thankful for this product and will continue to have my horses on it long-term. 
– Erica Cellucci, B.Sc. Medical Physics
I was fortunate to be offered the chance to try Equine Omega Complete® on my 27-year-old Standardbred gelding. He has some arthritis and seemed to be feeling his age. I am so pleased with the results I have seen after only 1 month of using this product.
Two weeks into using EOC®, his coat was noticeably shinier (my husband even noticed, and he never notices anything to do with my horses, lol). A month into using EOC®, his coat is shinier and softer, and his bay colour seemed richer/darker. His mane is also shinier and softer. He seems happier, and his mobility seems to be somewhat better, too.
I highly recommend this product and plan to keep him on it. I can't wait to see what another month will do for my boy. I also plan to put my 6-year-old QH mare on it and see what results happen with her. Thank you, Equine Omega Complete® and Robin Williamson!
–Trudy Aird-Wentzel
Before EOC®, we scoped my horse, who I was confident had ulcers – she did. She was off her feed and pretty girthy. It turns out she had grade 2 ulcers. After 30 days of changing
nothing but adding EOC® to her diet (even against the vet's recommendation of
taking away all grain!!), we rescoped, and the ulcers are healed! I wouldn't
have believed the results had I not seen them firsthand. My horse is
now eating all her grain and is no longer as irritated when I'm doing up a girth!
EOC® really works!
Thank you, Robin!
– A Happy Customer
I purchased Fish (Super Sweet Herman) in April as a young off-the-track Quarter Horse. he was skinny and under-muscled when I got him. After introducing him to a new feed plan and consistent exercise, his condition definitely improved, but I still wasn't 100 percent happy with the way he looked.
After being on EOC® for one month, he is finally beginning to cover up his ribs and pack on muscle the way I want him to. Not to mention, his attitude on the ground has changed for the better, and his coat is always soft and shiny. Overall, he is calmer to handle, has "cool energy" when it's time to work, and he looks amazing. 
I was hesitant to try EOC®, especially being on a student budget, and was not having luck with other supplements, but the results don't lie and I'll definitely be keeping EOC® in his daily diet. 
– Alana Pickrell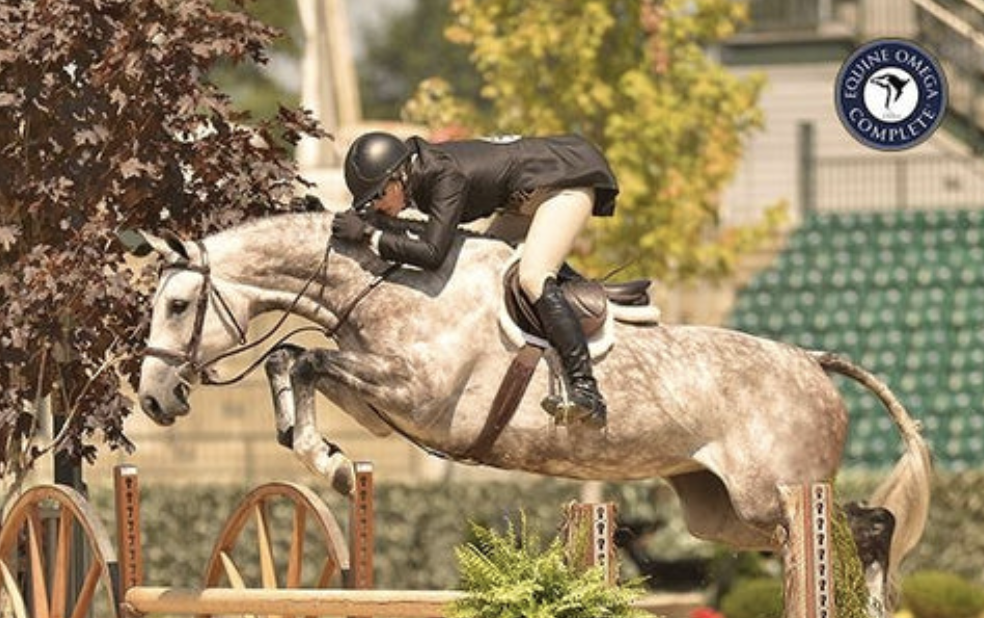 After using Omega® supplements for my own health with great results, I was excited to find a quality product to use on my horses. Joint health, gut health and a shiny coat are just some of the added benefits I have experienced while adding Equine Omega Complete to my horse's diet. After using it on five or six select horses for a period of six months, I am putting all 50 horses in my barn on it. It's that good. Don't be fooled, quality is the key to results when using omega products.
– Hope G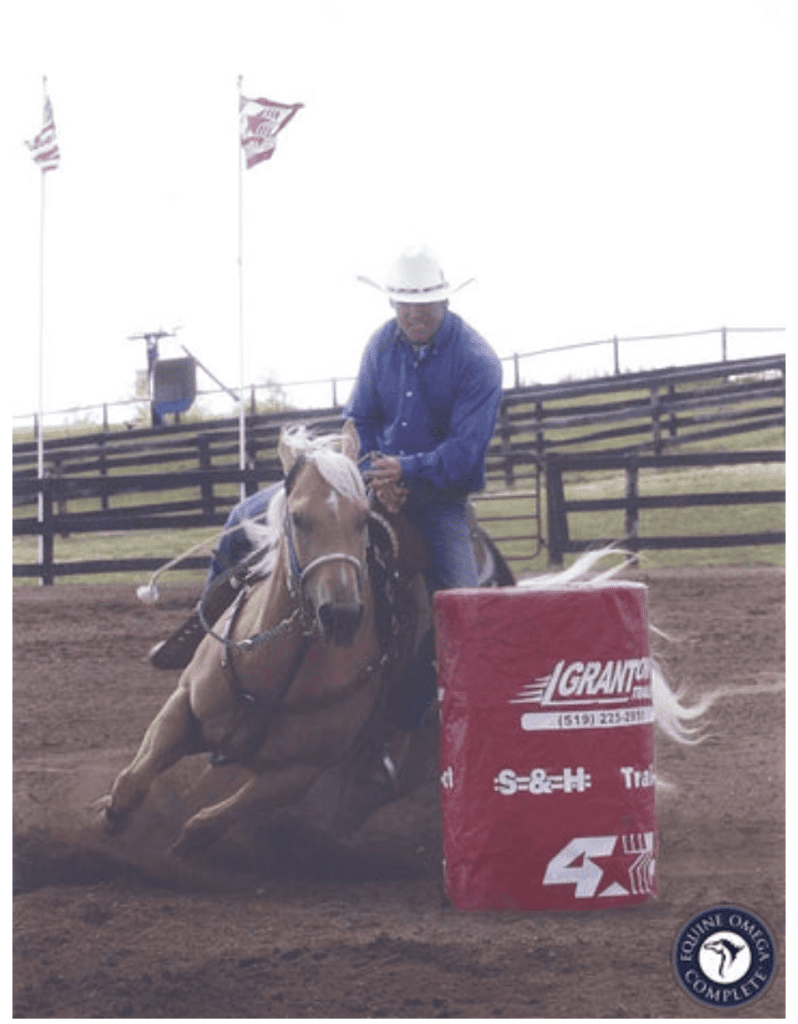 I am not a big believer in supplements. In 2013, my wife brought me some Equine Omega Complete® to try! I didn't really care to feed it, but I started my horse on it. We had used so many other products that had done nothing and I never saw any change or benefits, so never even looked for anything. About one week later, I noticed my horses were really looking shiny. Hmmm? Could this be the oil?
Week after week, I started noticing changes in my horses; didn't think there was much to change but their attitudes became even better than before! Their strides were opening up and WOW! they were wanting to work! I have now been using it for three years and I must say, this is the only product that I have used where I have actually seen noticeable changes in my horses. What a great product!  My current horses will stay on EOC®. And any of the horses that we have for training or purchase all go on EOC®!
– Glenn Pattison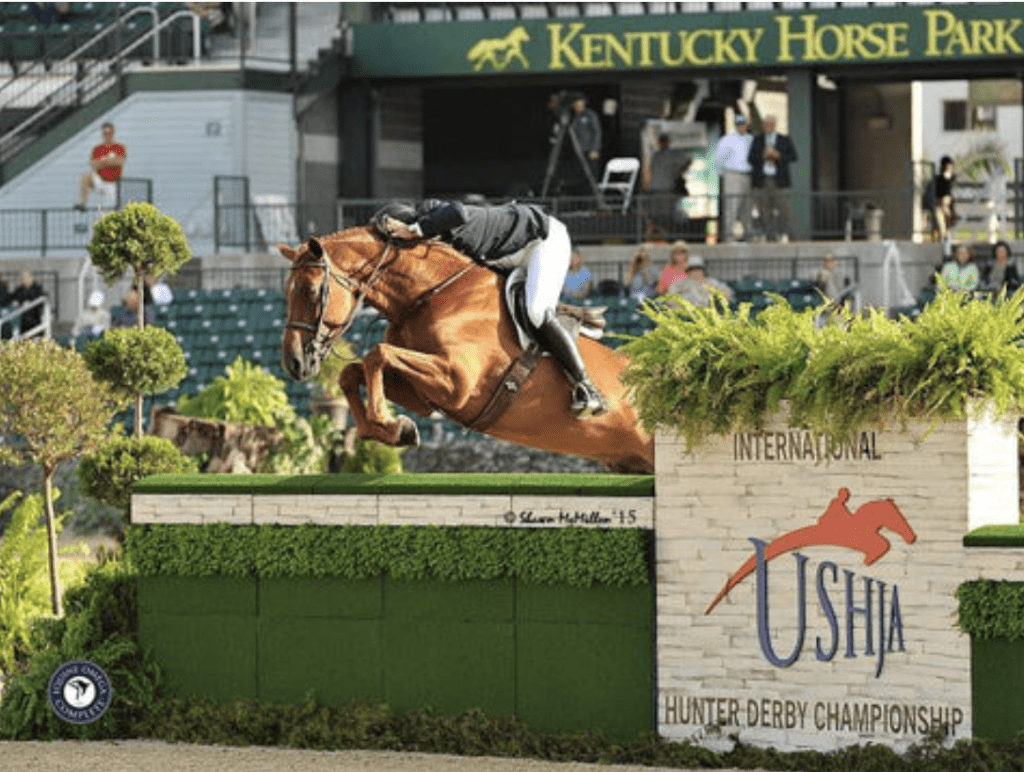 After using Equine Omega Complete® and Equine Mega Gain® for over a year now, we can't begin to express how amazing our horses look, feel, behave and compete. We strive to give our horses the best nutrition and keep their stomach, foregut and hindgut happy, especially while showing.
Our stallion, Jus d'O had a very successful and long year showing (finishing 2015 as the USEF National Grand Green Hunter Champion) and I know that Equine Omega Complete® helped keep him healthy and happy! I believe that a lot of credit goes to these fabulous products!
–Brandon and Jocelyn Gibson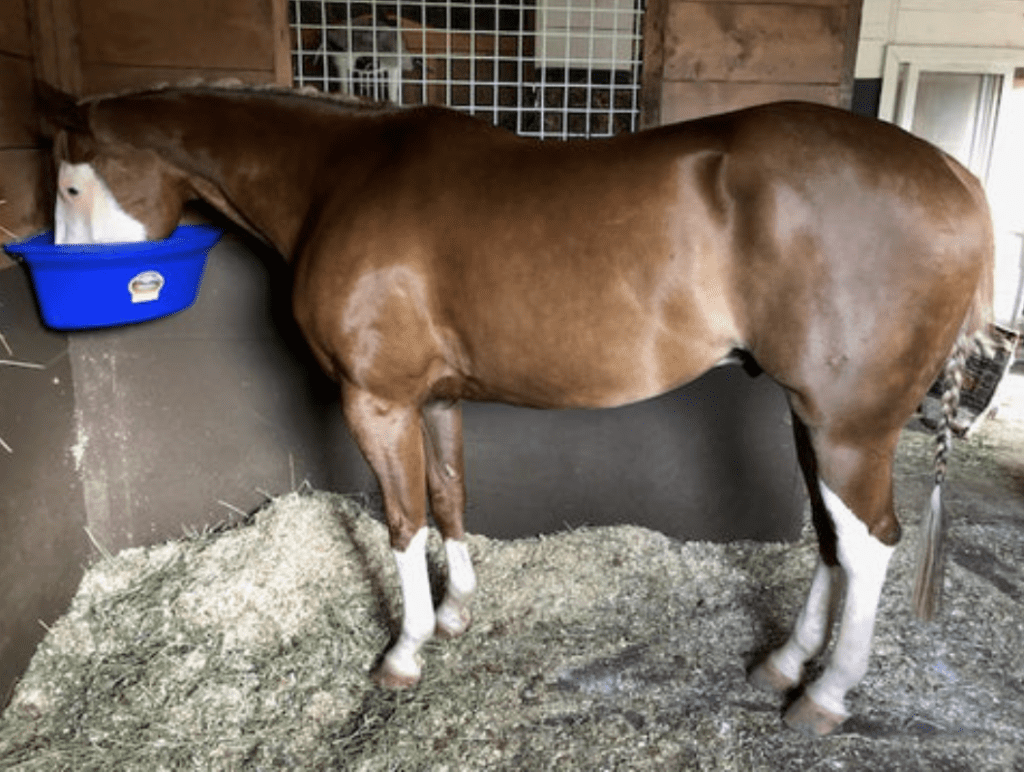 This is my horse Brûlée (Jessie Got The Gun). He is a 6-year-old Quarter Horse Paint. I bought him in April and started feeding him Equine Omega Complete. He just SHINES now! There are dapples in his coat brought out by your product. He looks so good people ask me what I feed him! The pictures do not do him justice.
– Lesley Elchuck
WKM CC, owned by Virginia Thompson and trained by Scott Mckay, has been on EOC® for just over two months
now, and we are so excited about this product!
CC has developed a better top line while maintaining above-average gut health. EOC® has been a welcome change to CC's overall well-being.
I recommend this product to any horse owner seeking to enhance their daily health care routine. EOC® can benefit all horses, from performance athletes to retired superstars. 
– Scott Mckay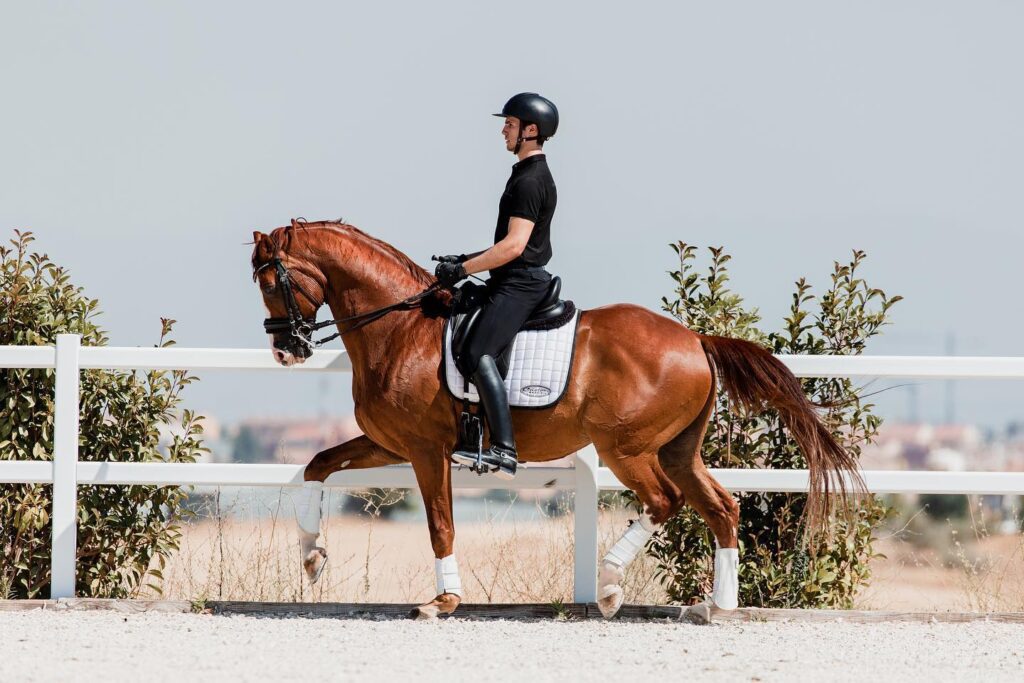 We started using Equine Omega Complete® on all our competition horses right after we travelled back from Europe last summer. Travelling with our horses back and forth each summer is always a challenge, and maintaining their good health and condition is a concern. These top competition horses are exposed to stress and big changes, and we still need them in the best condition to perform at their highest level. This year, while using the Equine Omega Complete® supplement, we saw a faster and better recovery after our show tour, without a doubt.
Providing our horses with a strong immune system and a well-balanced product, as Equine Omega Complete® is, has helped them feel better, and recover any weight loss faster, and their hair coats are beautifully shiny. In addition, we could keep the horses in great condition even during their resting time after the show season. It feels so good to know that we are providing our horses with the good stuff that they deserve!
Thank you, O3 Animal Health, for making such an outstanding product. All our competition horses are now on Equine Omega Complete®!
– Juan Matute Guimón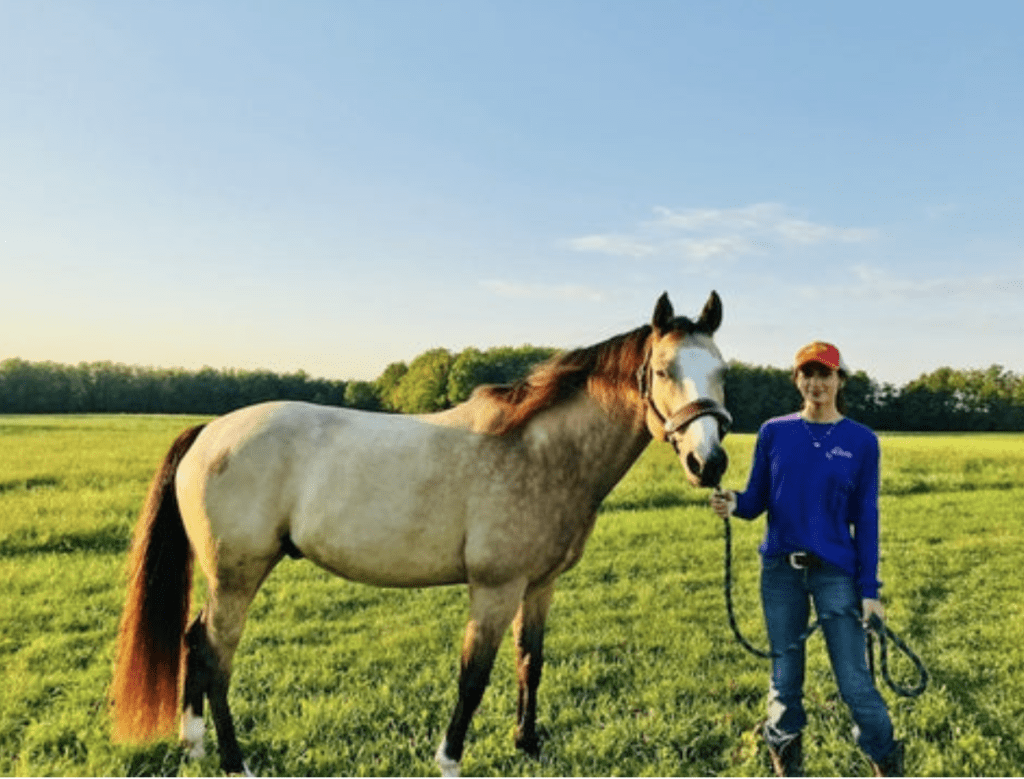 Chance is a 12-year-old buckskin Quarter Horse that I've owned since he was 3. During heavy rains/changes of seasons, Chance was often prone to bouts of mud fever that would pop up seemingly overnight.
Over the years, I've applied topicals from tack stores (creams, powders, spray-ons etc. – including a very expensive cream shipped from the UK) along with numerous homemade concoctions made from zinc-based products combined with antifungals. They all had zero effect preventing the problem & after a long period, were only mildly effective as a treatment while leaving a "gooey mess" all over his ankles.
Knowing the above and after many recommendations, I put him on a daily regime of EOC® added to his feed. Chance has been on Equine Omega Complete® for two years now, and I am delighted to say – without any repeat of those dreaded muddy scabs.
Though I am particularly "religious" when it comes to keeping his legs as clean/dry as possible when exposed to mud, I believe supplementing with EOC® is the primary reason his immune system can fight off this frustrating condition. A wonderful side effect of using EOC® daily: dapples galore!
  –Wendy Higginson 
Four years ago, our quarter horse gelding developed Pemphigus.
With outstanding care from the veterinary/farrier team and great daily care, including supplementation with Equine Omega Complete®, he has remained healthy and recently celebrated his 29th birthday.
EOC® has also helped with his arthritis and respiratory issues.
– A Happy Customer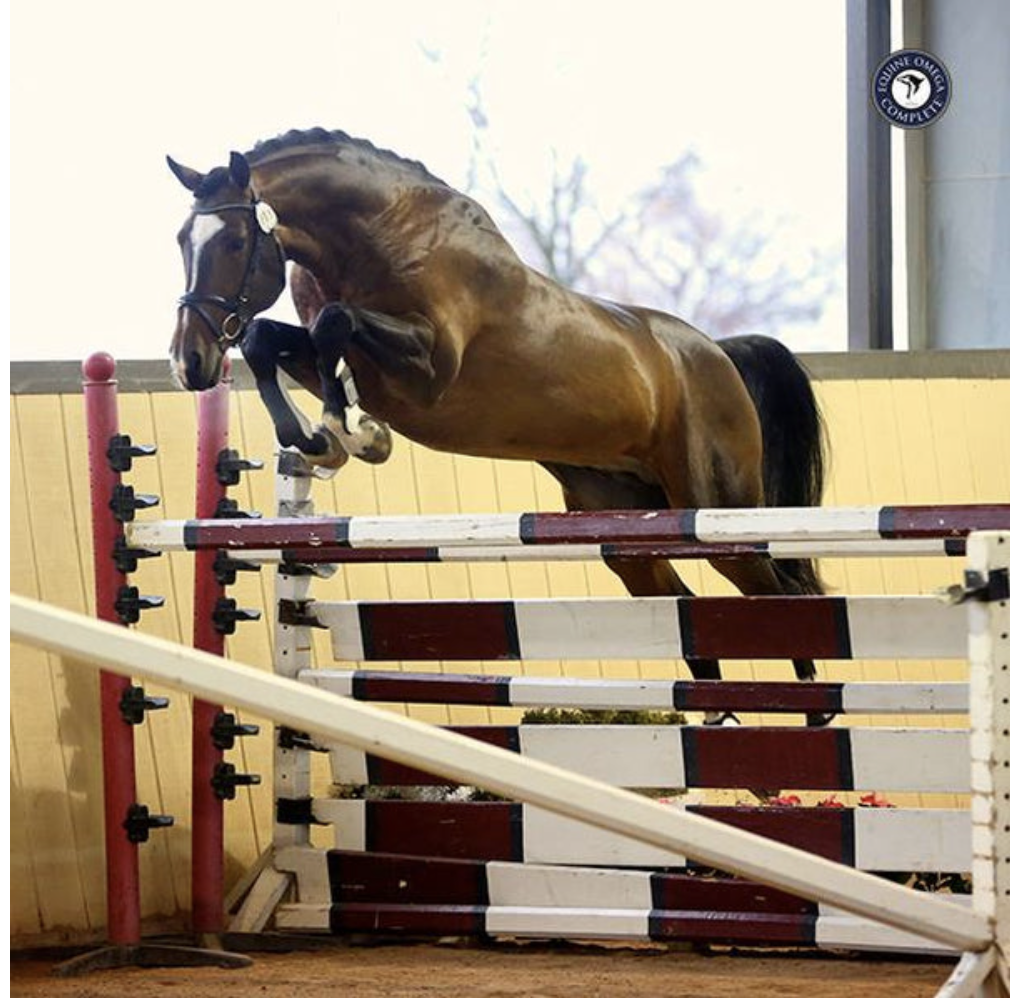 I am an indpendent sales representative for Equine Omega Complete®, not because I wanted to gain anything financially, but because their products truly work! I have every horse in my barn on it, from retired Thoroughbreds to broodmares to my young horses. Their coat condition has improved, and my ulcer-prone horse is looking and feeling better than ever. I am now feeding less and have eliminated rice bran as a weight-gain supplement, which I have used for years. I'm saving money by using it! 
– Kimmy Risser
I contacted Robin to ask if she thought the EOC® would help my yearling, that was having growth issues in her hind ankles. Robin said ABSOLUTELY!!! So I thought I would give it a try. My yearling has swollen ankle joints, and it was very painful, and the joints were hot. I had the ankles x-rayed to ensure everything was okay there, and the x-rays came back clean.  
I started with three pumps twice daily for ten days, then went down to once a day. The change in 10 days was UNBELIEVABLE!! The swelling started coming down, and she was much more comfortable. After 30 days, I had a normal yearling!! The swelling was gone, she was way more playful in the paddock, and her overall health just seemed better!!s This truly is "Magic Oil" any horses I get in the future will be put on EOC.
– A Happy Customer
I had been reluctant to try EOC® for my horse as most of what I heard supporting it was anecdotal, and my vet never recommended it. I have a 22-year-old retired Hanoverian dressage horse that is 22 years old and 17.2hh. He has no cartilage in his left front coffin joint. I saw a report of a study by U of G on EOC® about five months ago and thought, what can I lose? 
He has been very lame for two years. He started EOC® and was now licking his breakfast feed bowl clean. He would always leave some of his breakfast, and now he is eating it all. I didn't see any other improvement, and I was concerned as I could no longer pick up his front right foot to pick as he would not put weight on the front left. He was tripping/almost falling when he walked, so I increased his dose of EOC to six pumps. 
Within two weeks, no more tripping, and he started letting me pick up his front right foot to pick it out; now, he is offering me his foot. The farrier can now trim all four feet, whereas she could not trim one foot before. These are all very encouraging signs, and I can't believe the improvement in his comfort level. He will never be sound, but I want him comfortable, and he is now, thanks to EOC®.
– A Happy Customer
Dubai is a 17.2HH 6-year-old Thoroughbred gelding. For well over a year, he has been dealing with chronic mud fever. We started him on Equine Omega Complete® at the end of April 2021, in the middle of mud season. Besides getting the thick mud off his legs, I did not pick, scrub, or medicate his legs for four weeks. After four weeks, the mud fever is nearly gone from the inside out. He has fresh pink skin growing, and no inflammation surrounds the site on any of his legs. His weight is fantastic as well. When I bought Dubai, I was told he was a picky eater; he literally licks his flat feeder clean! Equine Omega Complete® is a great product for overall health!
I saw that my older gelding was suffering with some stiffness issues, arthritis, and muscle issues; he was having a tough time trotting across the field and he was picking at his feed like he didn't want to eat. My friend had told me about a product called Equine Omega Complete®, so I purchased some. Wow! I got some amazing results – what a difference. With just one jug, he is looking amazing, eating all of his feed, and trotting through the field chasing his girls around! What an amazing product EOC® is! Thanks to EOC®, his senior years will be much easier on him! 
– A Happy Customer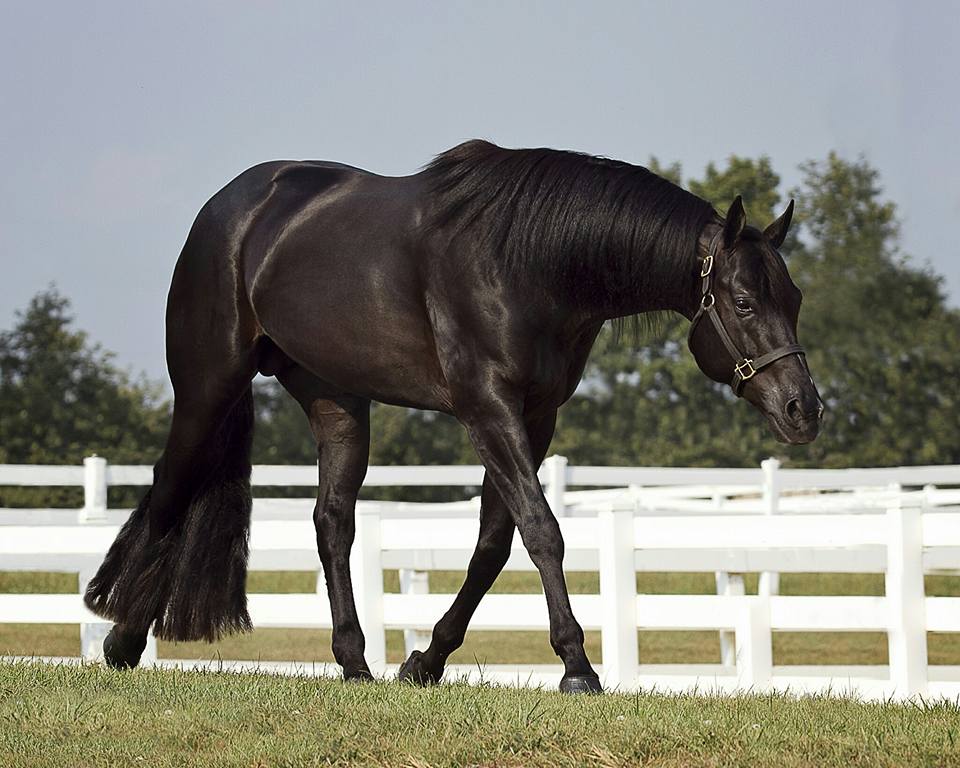 If you're looking for a great supplement that your horses will thrive on, check out Equine Omega Complete®! I have never been a big believer or consumer of equine supplements until I decided to give EOC® a try. Since then, I've seen a huge improvement in every horse I have put on it. I wanted an overall comprehensive supplement for Full Medal Jacket to help aid him in everything from joint support to weight management to coat health. I also wanted a supplement to help him during his busy breeding seasons. I have to say, I've found that supplement in EOC® and FMJ will be on it for life!
– Robin Baker Show Horses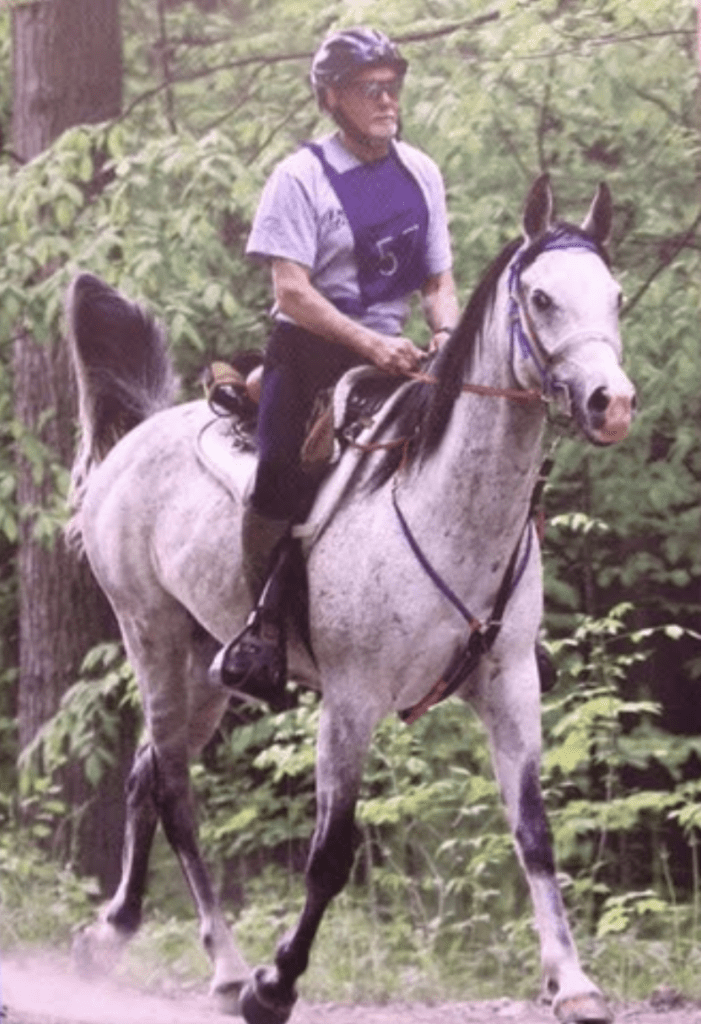 My name is David Mac Donald and I am a competitor in Endurance Racing, Competitive Trail Riding, Ride n Tie, Set Speed and Limited Distance Events. I compete with a now 15-year-old pure bred Egyptian Arabian gelding with very good success and a number of top finishes!
However, we had been plagued for some years with severe Mud Fever/Scratches which limited the number of events we could compete in mainly at the beginning of the season. Kharringtonn (aka Gringo) is now in his third spring with absolutely no mud fever/scratches whatsoever and we unequivocally equate this to the EOC® (Equine Omega Complete®) product that he has been on! I wanted to give it a couple of seasons to ensure that we could equate the EOC® to resolving the issue. 
I can also comment on his fantastic coat and most of all his improved concentration which has been amazing since on EOC®. Thank you Robin, and happy to chat with any potential users or doubters of your product at any time!
– David Mac Donald
Dreamer is a 22-year-old Quarter Horse that I had as a 2-year-old and ran as a futurity horse. I sold him to a lady that use to work for me, she had fallen in love with him! Over the last 12 years, Dreamer has been living their life on a 10-acre farm that they bought. He has been so spoiled but he did have two issues: he had chronic mud fever (scratches) and he was a cribber. He also had a very sensitive gut.
So about 4 years ago she started giving him EOC®. The Mud Fever got less and less and his stomach started to improve. His cribbing stopped, but still, he would get little bouts of Mud Fever. Very little, but still there.
About a year ago, Dreamer moved back to Southern Steele Quarter Horse Farm. We started feeding him a full dosage of EOC® and no more Mud Fever! Now he is Mud Fever free, has no stomach issues, and still no more cribbing! How awesome is this?!
– Heather Ross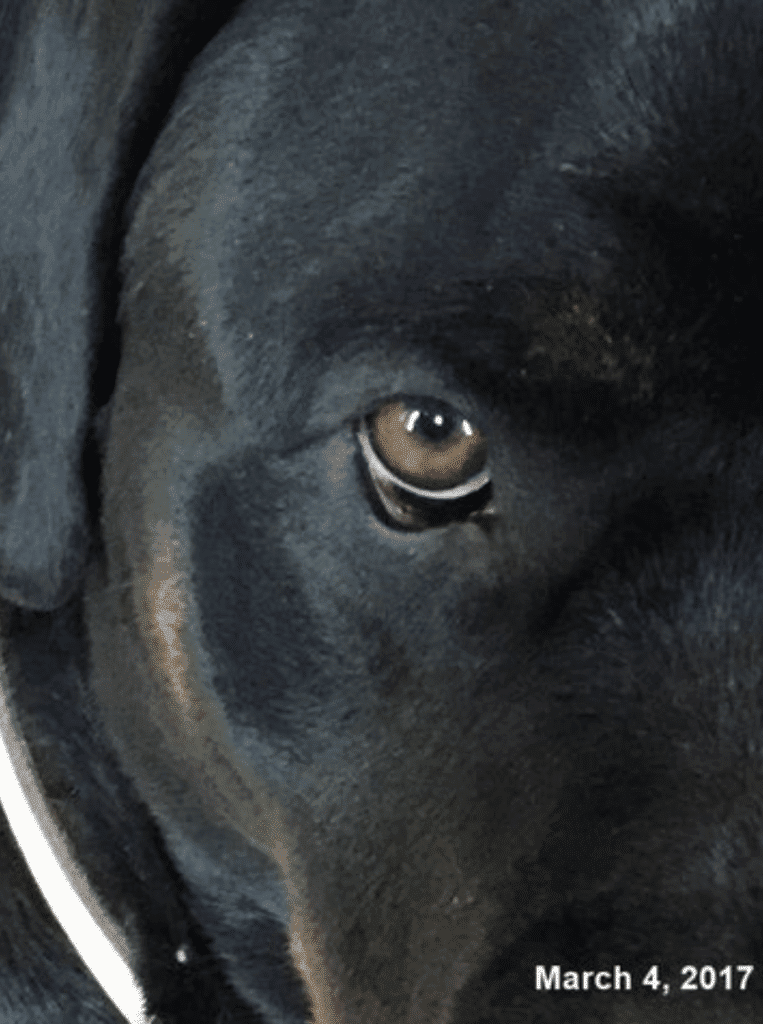 So last week I had a customer contact me in regard to her Rottweiler who is a year and a half old. At four months old she took her to the vet, and he diagnosed her with canine acne. They purchased some food through the vet and tried some creams, nothing worked. A few weeks later she got some Canine Omega complete; it has now been two weeks and the acne around her eyes has completely gone and around her muzzle is almost gone! She has a few still left but this is totally amazing after just two weeks on this product! LOVE Canine Omega Complete!!!
~Vada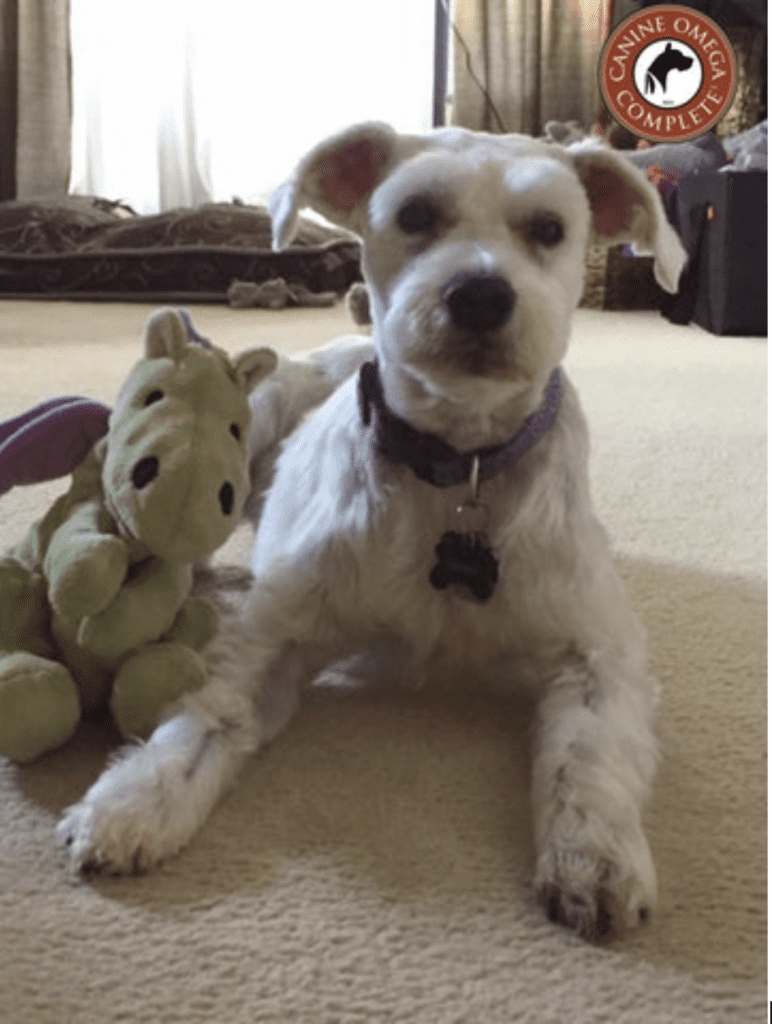 This is my handsome boy Crosby he is an 8yr old Miniature Schnauzer. He has always been a happy and active boy but when he lost his house mate and best friend Sasha suddenly this is past June I noticed he became a much quieter subdued version of himself. He was less animated and his coat got dull he just lost his spark and didn't seem himself. He began constantly licking and chewing  his feet and always seemed nervous and almost anxious at times.  We loved up on him and gave him all the support he needed to come around, he still seemed down and not himself. I was offered a sample of Canine Omega Complete, it worked wonders on some horse I've seen use it.
But oh what a change in his temperament after the first week was brighter and more playful. After the first month, he's back to a happy healthy and energetic self, he will run around now full off energy his eyes are bright and full off life he still licks but way less now and his groomer says his coat has never been softer or more shiny. Thank you Canine Omega for helping bring my Crosby back!
Irene W.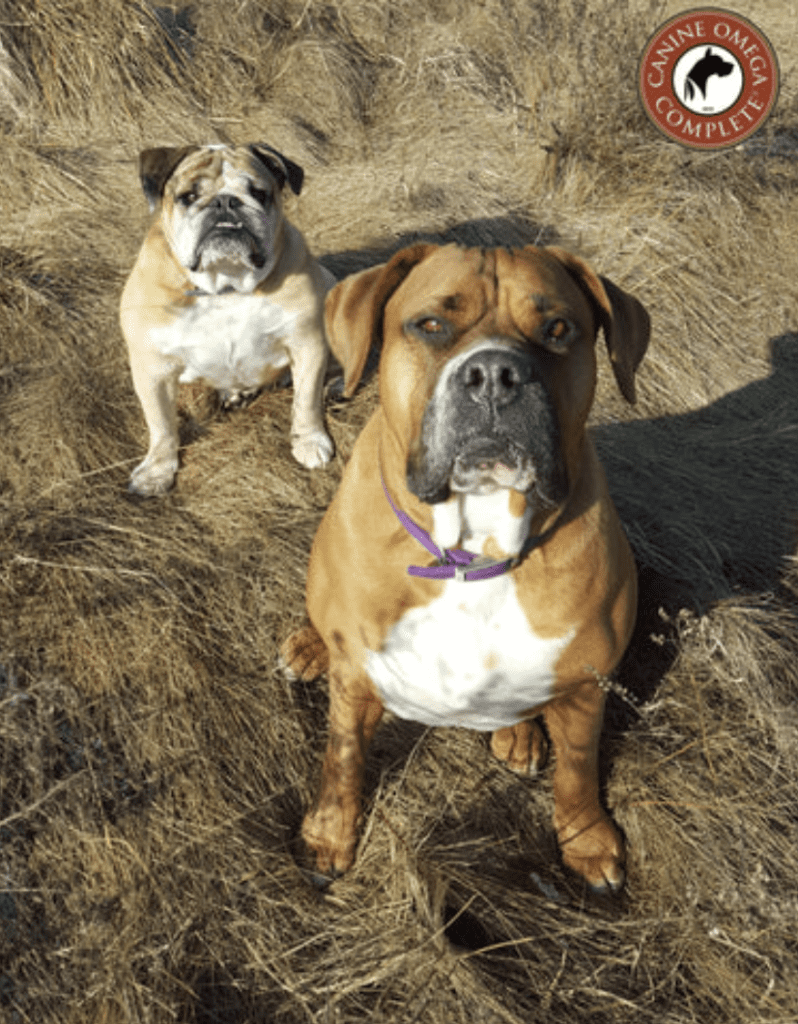 We have had our two dogs (English Bulldog 9yrs old, and Bullmastiff 7yrs old) on Canine Omega Complete for several months now. It has improved my bulldogs digestive system as he has a sensitive stomach. Both dogs coats are shiny and much softer. My Bullmastiff has always had bad breath, we tried dental chews, water additives and teeth brushing but nothing helped. After using Canine Omega Complete her breath got better after only a couple weeks of using the product. We have also noticed both dogs feel better in general, they are moving energetically on walks and our 9 year old bulldog with joint problems doesn't seem to be sore the next day. It's an amazing product that we will continue to use with all our dogs. 
~Amanda Zajczenko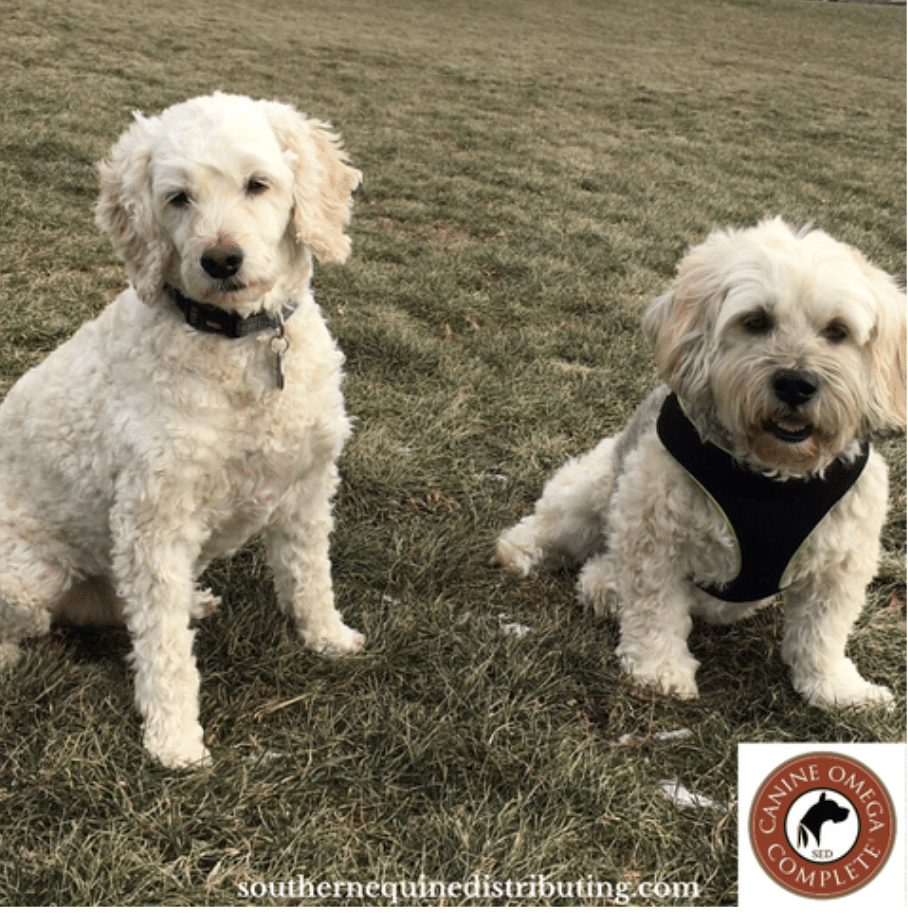 Tucker is a 12 year old Cockapoo. He's been feeling his age lately and been lethargic and weak in the back end. Within a week of being on Canine Omega Complete he is back to his old young self. Outrunning his younger brother, full of energy and can jump on and off the bed with no problem. He's gotten that vibrant look back in his eyes and I know he feels good!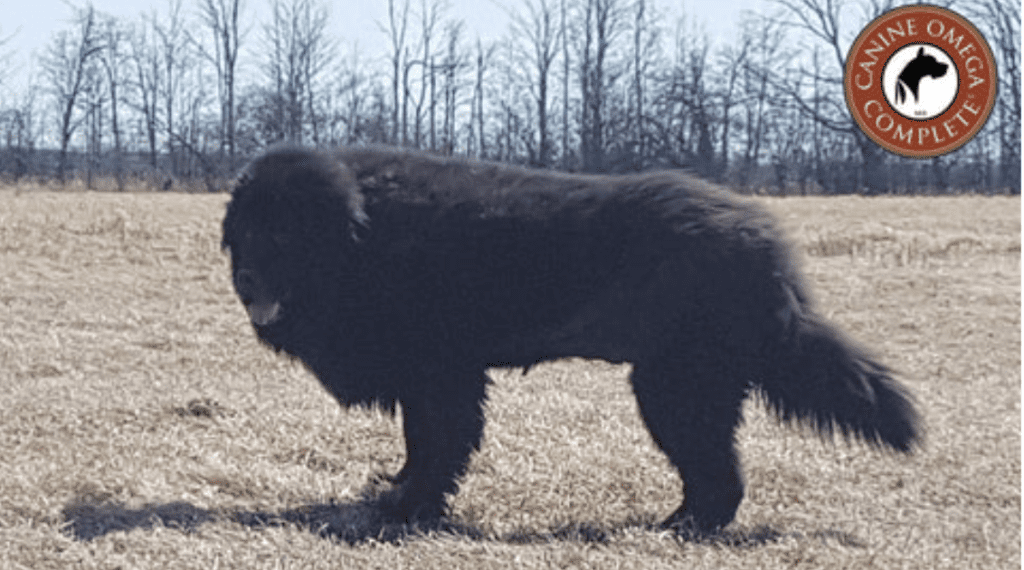 I did an experiment; I took Bear off of the Canine Omega Complete. Kept him on all his other stuff but took him off the Canine Omega Complete. 
Worst mistake EVER!
His movement decreased, his skin allergies increased, his dermatitis increased with scabby hot spots all over him & his appetite wasn't great. 
Put him back on last Friday – within 3-4 days he was showing marked improvement! 
Today he is walking all over again, hot spots are GONE! His appetite is back and his allergies are much better! 
Remember, Bear is over 11years old!
~Liana Hickey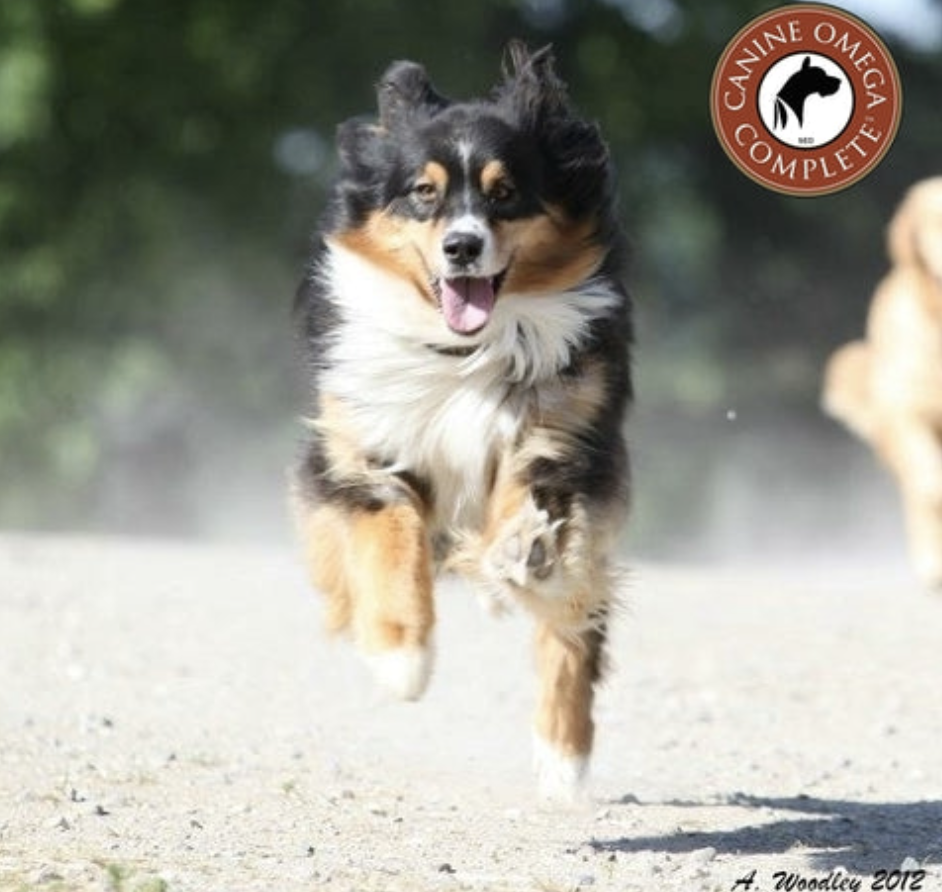 "Tyson, my 7 year old Australian Shepard is very active at the barn and sometimes he forgets he's not 2 anymore and over does it running with his beloved Gator. I noticed awhile ago that Tyson was then stiff the next morning.  I have had him on the Canine version of EOC for almost 2 months now and I have noticed that he is not as stiff in the mornings. Tyson's coat is also shinny and healthy and this winter I have noticed that his skin is not dry. I love this product for my horses, so I am thrilled that there is now the canine version and very happy with the results I see in my dog. 
Stroker our 15yr old mini Australian Shepherd that I have been posting is still hanging in there. He was diagnosed with diabetes this past December and Hepatocutaneous Syndrome in March which is an uncommon disease in dogs and very rare in cats. The majority of cases are associated with chronic liver disease with a much smaller number being caused by a glucagon secreting pancreatic neoplasm. This disease can destroy their feet causing lesions, cracking very painful feet. The disease is fatal however we were determined to help him. We had him on a strict diet of eggs, bone broth, supplements and even a trial drug that the University of Georgia is experimenting with. Nothing seemed to help actually he was getting worse to the point we were carrying him outside. Then in mid May our friend from Canada reached out and said I'm sending you this Canine Omega Complete oil we developed here in Canada. Absolutely what would it hurt. We started it May 20th, it had not even been a month and his feet are already almost 100% AMAZING!!! He still has some rough hard spots but those are wearing away each day that goes by. First pics taken April 23rd you can see how bad they got then almost an immediate change last couple pics were from yesterday!! We are so amazed by the results with Stroke I had Robin send me 18 bottles.
Jennifer G.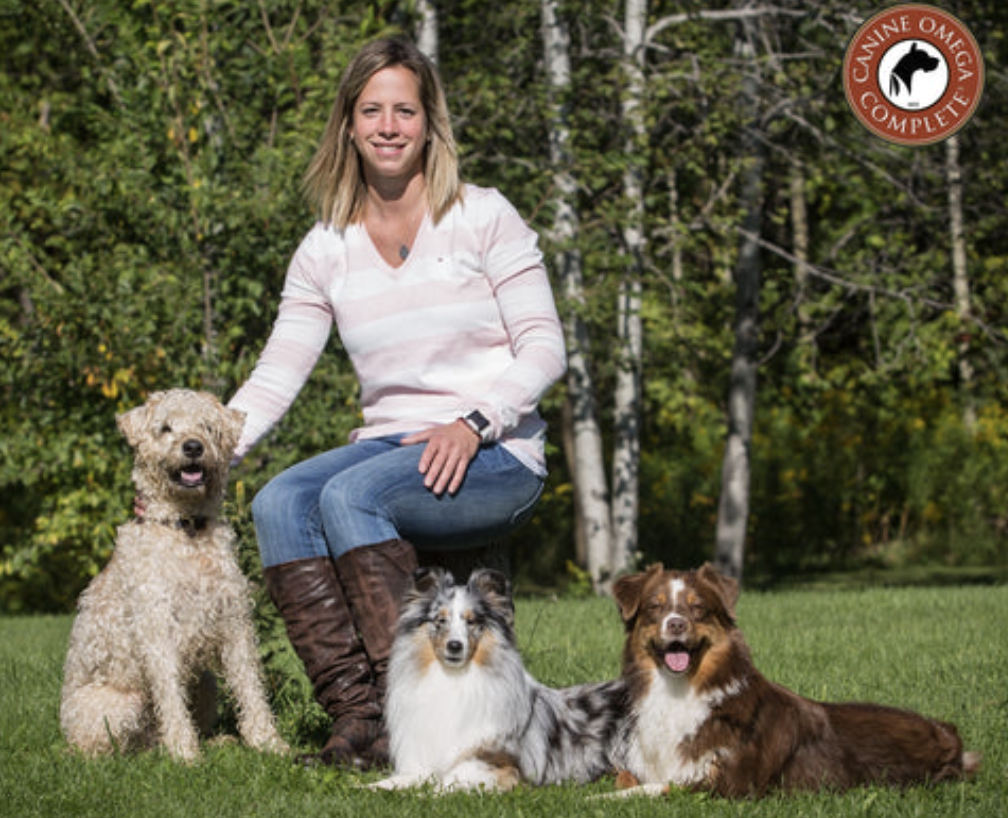 I'm Carolyn McIntyre of McIntyre Canine Rehabilitation, a mobile canine physio from Guelph, Ontario. I specialize in helping high-level canine athletes reach superior physical performance by improving their power, strength, stamina, turning ability, body awareness, and flexibility all while minimizing injury and increasing longevity in their sport of choice. I am the author of "Warm Up and Cool Down of the Canine Athlete: An Evidence-Based Approach to Improving Performance and Preventing Injury". I am also a Team Canada Health Practitioner providing physical assessments and advanced fitness conditioning to the canines performing at the IFCS World Agility Championships.
I've been using Canine Omega Complete for over a year now and am loving the results! My dogs are active in training, competing, and showing in the conformation ring so having a shiny, healthy coat is a key part of their success. I love how shiny and healthy my dogs' coats look! As a canine physio and rehab specialist I recommend the use of omega oils to also help reduce joint stiffness and inflammation, which is critical to their performance in other sports we compete in including agility, obedience and rally. Canine Omega Complete is my go-to product for both friends and clients!
 ~Carolyn A. McIntyre, H.BKin., MSc. PT., PgCPain Canine Rehab Diploma (C)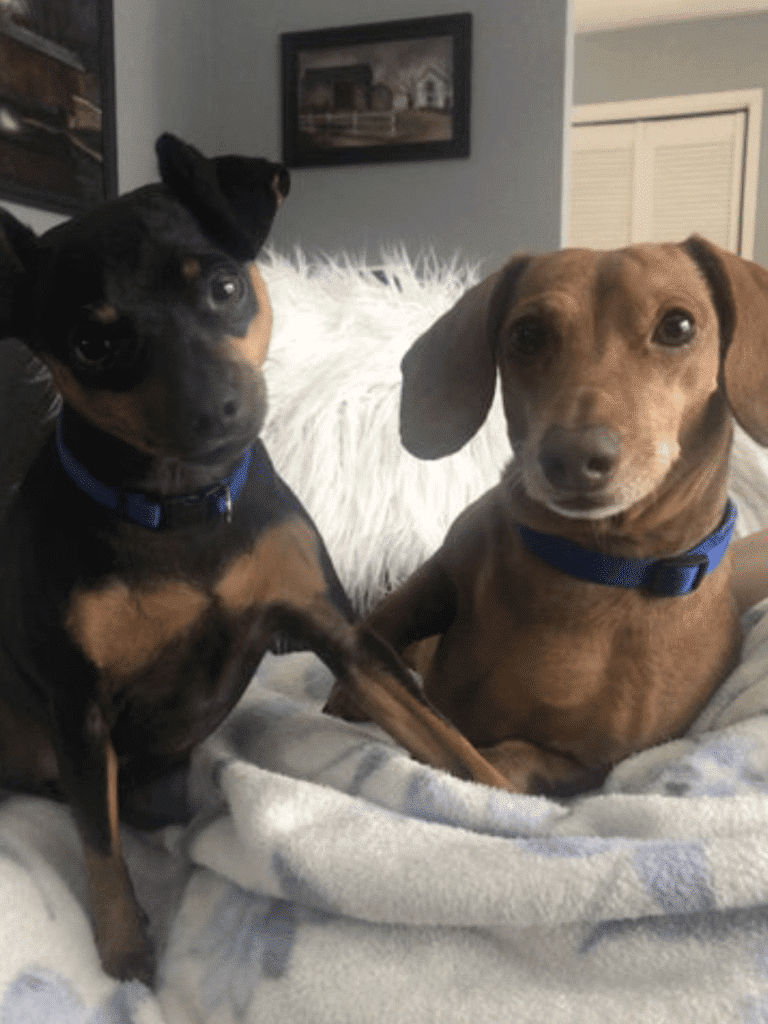 I have used Equine Omega Complete with my horse for some time with great success. So when my 8 month old Labrador Lincoln started to develop dry skin despite no change in his diet and being on excellent food, I thought giving Canine Omega Complete would be worth a shot. It has made all the difference for him. Within 2 weeks his coat was glossy and shiny and was. Wry seldom scratching himself compared to before. Most importantly, he absolutely loved the taste, and would jump for joy at mealtime. I know the benefits to him that I can't see are just as good. What a great product.
 Kristy N.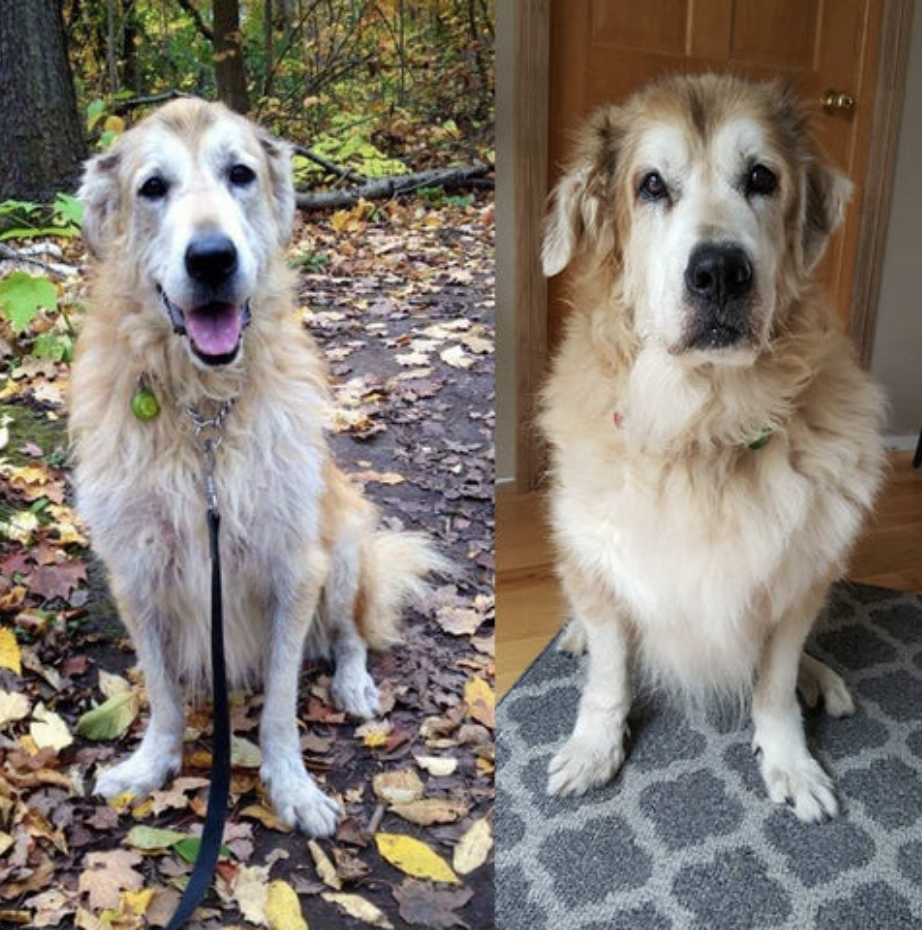 Bear is a 11 year old Great Pyrenees x golden retriever who struggles with food and environmental allergies. In 2012 Bear developed sever allergies and was nearly bald in some places from the itching. After allergy testing, medication and diet changes, we had the itching under control but his coat was never the same. He had flaky skin, a thin coat and a yeasty smell and build up on his skin and needed bi – weekly baths to help control his skin issues. We started Bear on Canine Omega Complete in October of 2017 and we have been blown away by the results! Bear has been on the Canine Omega Complete for 4.5 months and his coat is drastically improved. Its softer and much thicker and after years he has finally re-grown a thick under coat and can enjoy the winter weather again. On the left is a photo of Bear from the fall of 2016. The fur on this chest and under his eyes is thin and patchy and you can see how thin it is on his front legs from him licking. The photo on the right was taken March 6th 2018. His coat is thick, full and healthy looking and he hasn't had a bath since December. Thank you Canine Omega Complete for making Bear look and feel so good!
Katie B.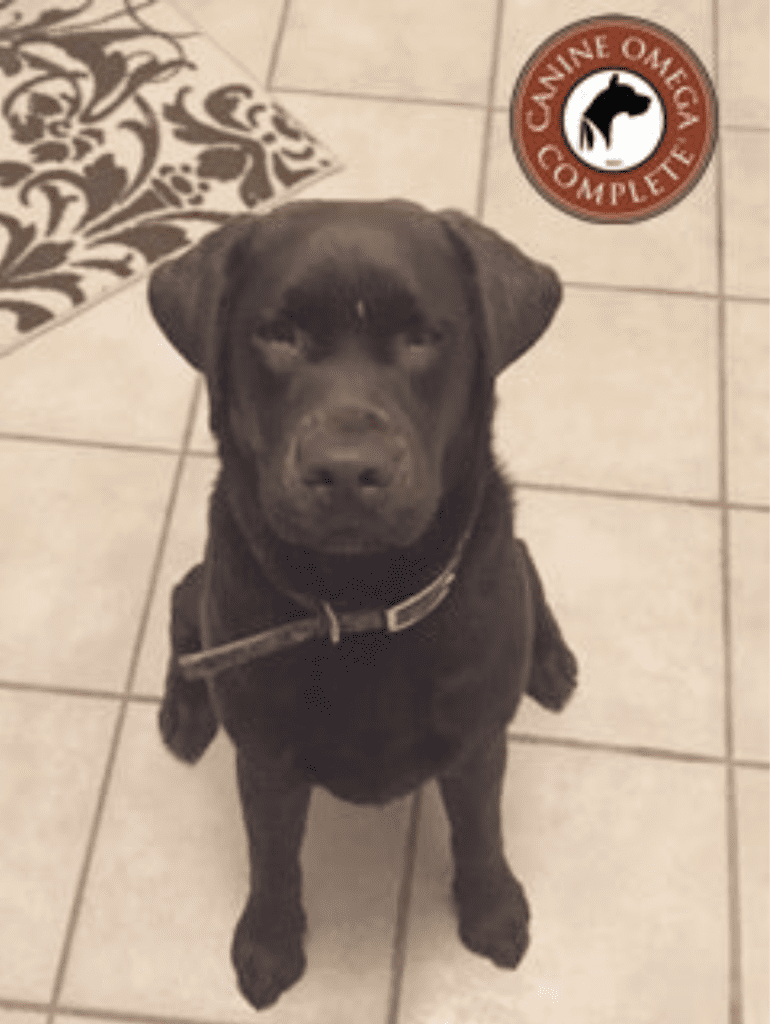 I love the omega product for my pup! Boomer is 12 and has been suffering with yeast build up and skin sensitivities for over two years. We have tried shampoos, expensive hypo foods, anti-fungal creams, antibiotics, nothing has resolved the issues and it has changed him and aged him.  After introducing him to the omega product his conditions have improved by far.  He is back to his playful self, much less redness and irritation and his ears are not swollen and sore. The product is super tasty, In fact it's like a treat for him, he loves it!  I definitely recommend this product it has really changed Boomers senior years.  Thanks for sharing this with me Robin. 
 ~Tammie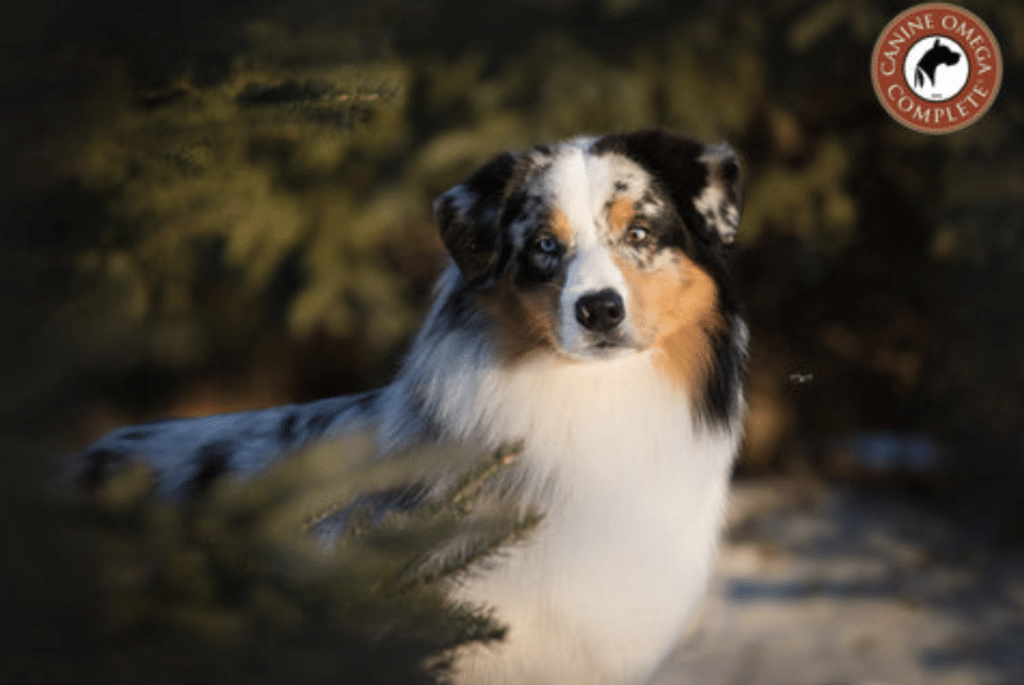 I've been using COC on my 4 dogs for about a year now.  My dogs are very active in training, competition and showing in conformation so having their coats and health in top shape is a priority for me!  I've been training dogs for 20 years, breeding and showing Australian shepherds for 6 years and COC is the best oil I've ever used on my dogs!  My older golden no longer gets ear infections, my aussies are energetic, shiny, healthy, and thrive in performance.  My male who competes in dock diving and conformation is in amazing shape!  His coat catches the eyes of the crowd in competition….it's shines and flows!   I also encourage all of my puppy buyers to continue on with COC after they leave my care.  My puppies  are fed the oil starting around 4 weeks of age.  It's a great addition to their raw meals!  
~Sarah Anthon
Quincey is an 9 year old Lhasa Apso crossed with a Cocker Spaniel. About 2 years ago he tore his ACL and had extensive surgery and many weeks of rehab. Meanwhile it was discovered he has hip dysphasia. Before his injury he would run and play and was an over all happy dog. After his surgery he was have trouble going for long walks and was not as energetic. He had to be lifted in and out of the car because of his weak leg. After being on Canine Omega Complete he is running and jumping as if he has no previous injury. He is excited for his walks and feels great.
I am so happy with this product! It has given me back my loving energetic dogs that were feeling their age and injuries.
Thank you Robin for introducing me to Canine Omega Complete! All my fur babies love it!!
~Meredith Fogden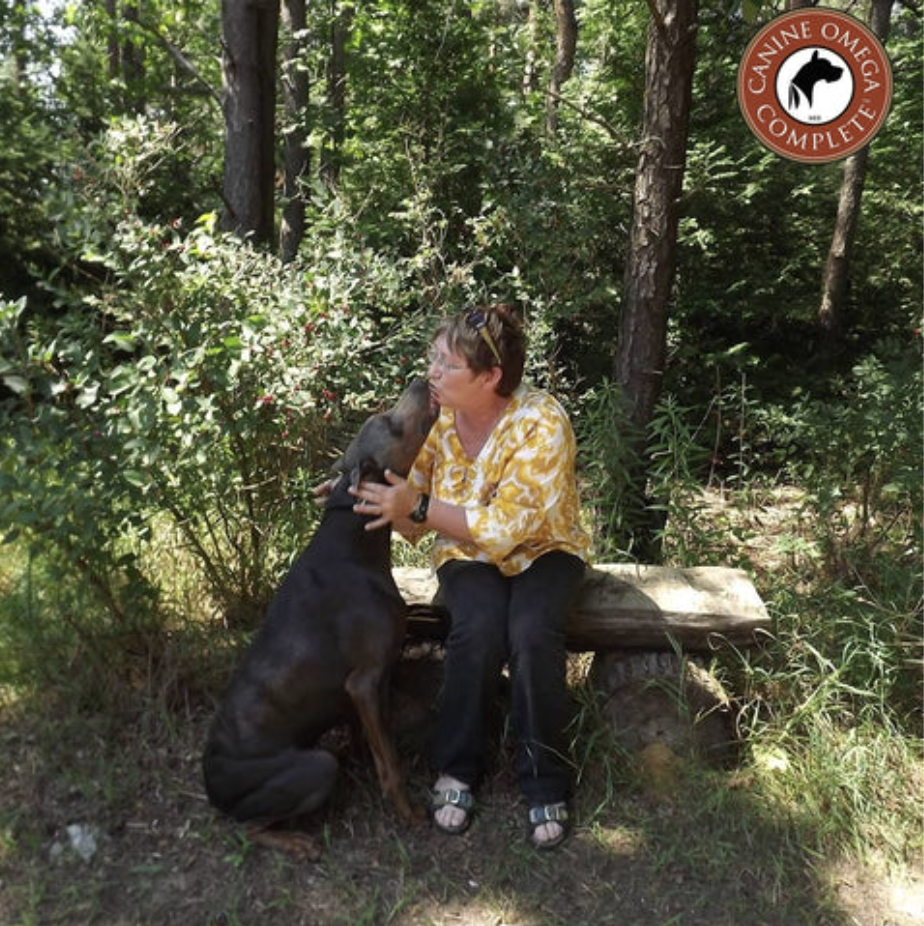 I had adopted a blue Doberman and of course he came to me with skin issues.  Bad sebhorrea, and both wet and dry ears.  His skin was flaking, very greasy and his smell was pretty bad.  He was itching so badly, that he was constantly chewing at his sides to try to relieve it.  We tried all the remedies.  The ones the vet had us try, ones from the pet store, ideas from friends who had dogs that had bad skin.  Even remedies off the internet.  Nothing seemed to work.  Robin had an advertisement up about her new product, Canine Omega for the dogs.  I gave it a shot.  After 10 days my husband and I thought we were imagining things .  We didn't think anything would work, after months and months of different treatments. Our dog had completely stopped scratching, his skin felt dry to the touch and no smell!  After two weeks we saw the hair growing in along his flank and hip where his constant chewing had left raw sores and no hair. By one month the dog was completely healed.  Even his ears had lost that wet greasy feel.  I want to thank Robin and Canine Omega for making life a little easier for my Jake.  I recommend this product to anyone!
~Debby Hockin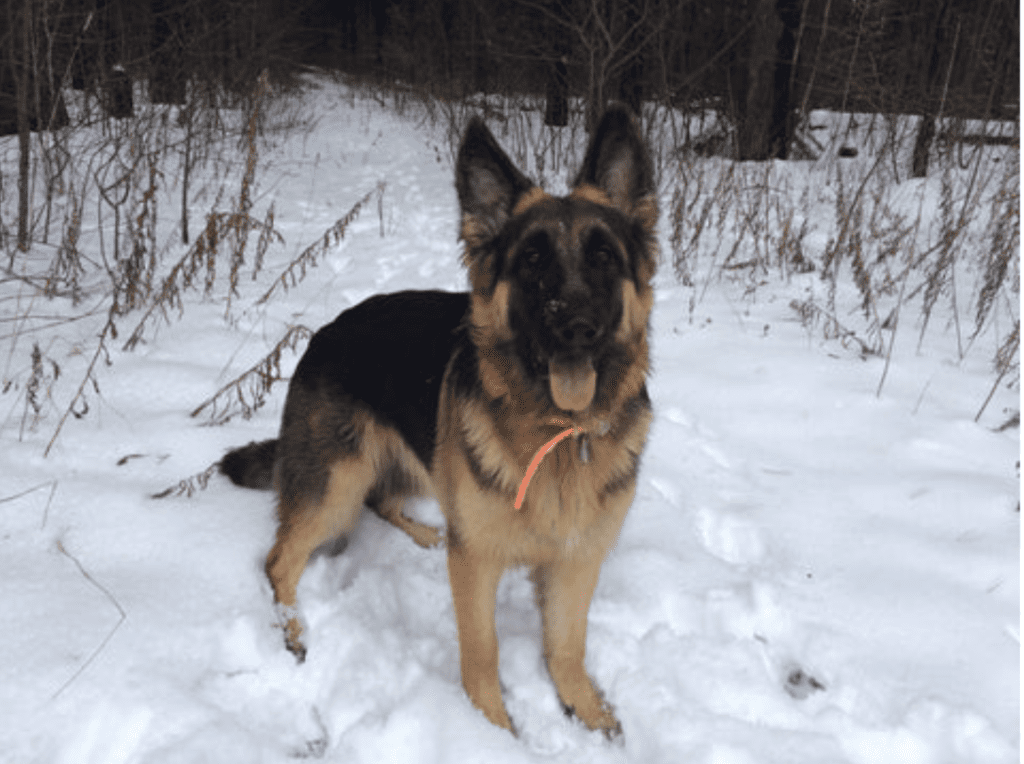 I don't normally provide a testimonial for a product but I felt I needed to give "kudos" to Canine Omega Complete. My young German Shepherd pup was showing signs of lameness in his legs, which is common to this breed. After doing a bit of research on some proactive strategies to help prevent further injury we did a trial with Canine Omega Complete. We felt this was the right avenue since we were looking for a premium supplement that could help with our pup that doesn't have the best appetite. 2 months later our Jaxson has visibly improved by the way he walks and runs to his beautiful thick shiny coat. He also loves to eat his food with Canine Omega in it! I would highly recommend this product, do your research and you will find this supplement originated for horses and has rave reviews with the equine community. Thank you Canine Omega Complete for filling in the need to help our beloved "fur babies"!
Brooke F.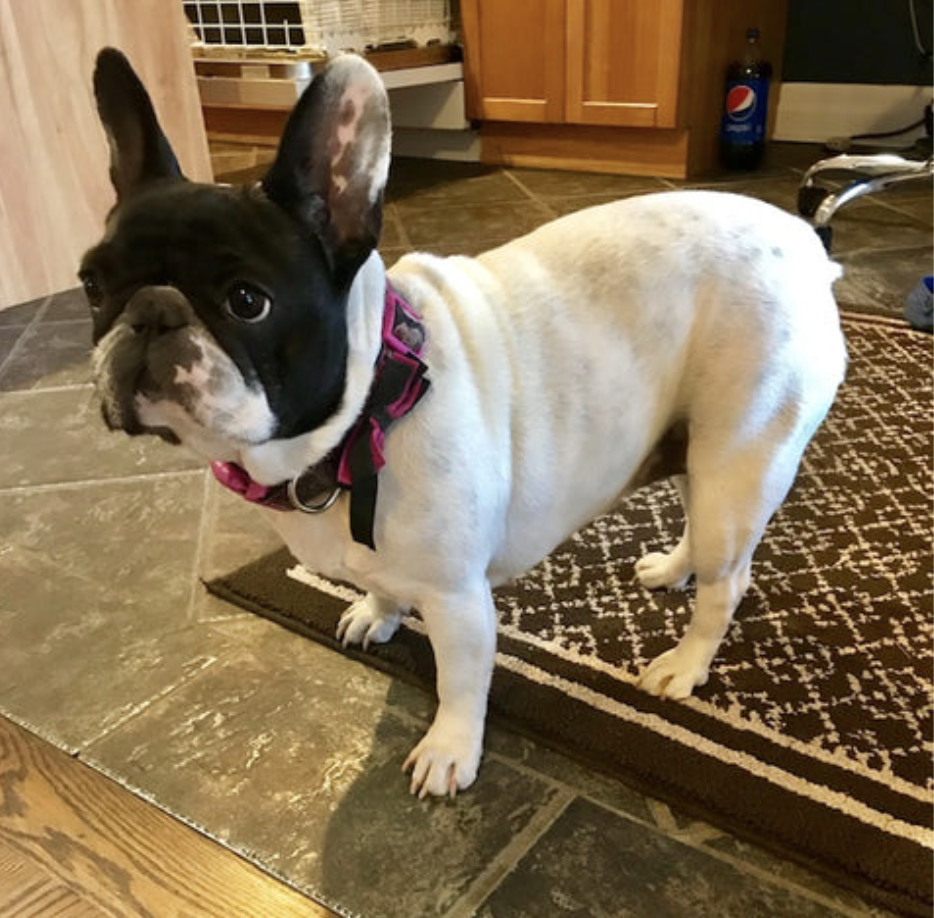 I can't thank you enough Canine Omega Complete! I have been giving Canine Omega Complete to my French Bulldog, Audi, for just over 2 months now. We moved to the county and she was having allergic reactions to everything. It was making her lose her hair. She was scratching and going very pink in spots. Now she has grown the hair back and has a nice full coat back. I just placed my order for another bottle! 
~Amanda Brown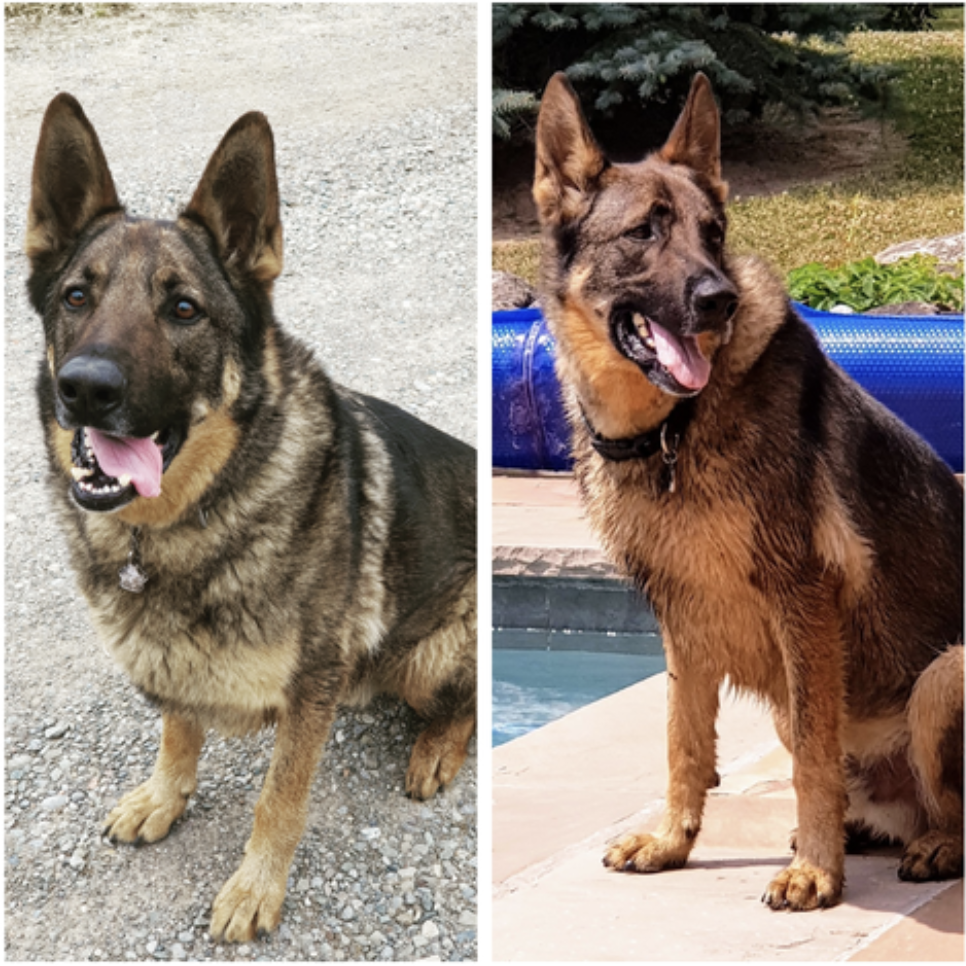 Our 5 year old Shepherd, Hunter, started Canine Omega Complete a few weeks ago and we have noticed quite a difference.  His coat is smooth and shiny and does not blow out as often.  A big difference as well has been his appetite and digestive process – both improved! I would recommend this product for large breeds especially.
 ~Janet Bergermann