Products backed by science.
Southern Equine Distributing is Canada's only supplier of Equine Omega Complete®, an all-natural supplement that provides advanced nutrition for horses.
Our ongoing research program at the University of Guelph has shown that EOC® protects cartilage against breakdown during inflammation. This means your horse can live a longer, healthier, active lifestyle free from arthritic joint pain. Previous case studies looked at the effects of EOC® in horses with ulcers, with encouraging results.
Equine Omega Complete® has been scientifically proven to prevent cartilage damage and ulcers. Developed with human-grade omega 3 fatty acids, EOC® is non-GMO, organic, and supports healthy cell function in horses and contributes to their overall health.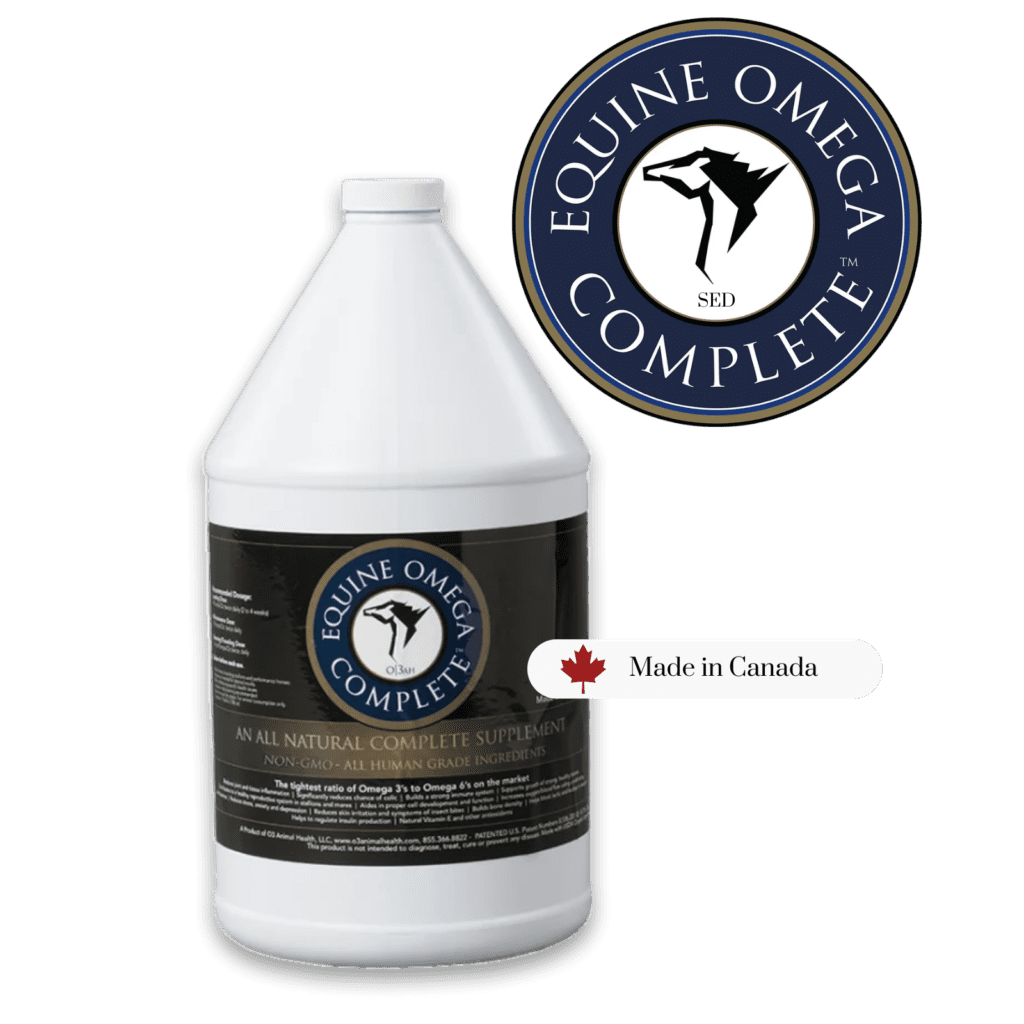 This blend of DHA and EPA essential omega fats and natural antioxidants supports inflammatory response, performance recovery, insulin regulation, and weight management while ensuring strong hooves and a radiant coat. Equine Omega Complete® is a unique blend of organic soybean oil, wild-caught fish oil and all-natural vitamin E. 
Our customers love Equine Omega Complete®!
After my mare had her foal, she had difficulties maintaining her weight, specifically on her top line. I had tried so many different grains and feed programs, but was at a loss both economically and without results.  I made the decison to try EOC®. I had heard a lot of great reviews about it and felt this was an opportunity to see that what this product could do.  I can, without a doubt, say within 3 months my mare was back, looking better than she had before. This stuff is magic! Not only is it a great option economically, but it keeps things simple....Thank you, thank you, thank you!
Four years ago, our quarter horse gelding developed Pemphigus. With outstanding care from the veterinary/farrier team and great daily care, including supplementation with Equine Omega Complete®, he has remained healthy and recently celebrated his 29th birthday. EOC® has also helped with his arthritis and respiratory issues.
WKM CC, owned by Virginia Thompson and trained by Scott Mckay, has been on EOC® for just over two months now, and we are so excited about this product! CC has developed a better top line while maintaining above-average gut health. EOC® has been a welcome change to CC's overall well-being. I recommend this product to any horse owner seeking to enhance their daily health care routine. EOC® can benefit all horses, from performance athletes to retired superstars. 
I can't believe the changes in only one month! I didn't believe this oil would help clear up my mare's mud fever, but it's helped a lot in a short period. I'm pleasantly surprised! This helped when ointment didn't. Thanks, Robin!
I have had my horse on your product for about five months, and in that time, he has grown a lovely healthy coat and gained weight...Just want to thank you for this wonderful product and the health of my boy!
Read the latest research on Equine Omega Complete® and its positive effects on our equine partners and athletes of varying ages and disciplines.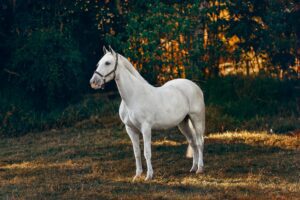 Equine Studies
At Southern Equine Distributing, we stand behind our products. We truly believe that Equine Omega Complete® is the best choice for horses of all kinds, of all ages, and of all disciplines. In particular, we believe that EOC® is the best choice for horses suffering from reduced joint mobility due to age, injury, and inflammation and horses suffering from common digestive issues such as ulcers.
Read More »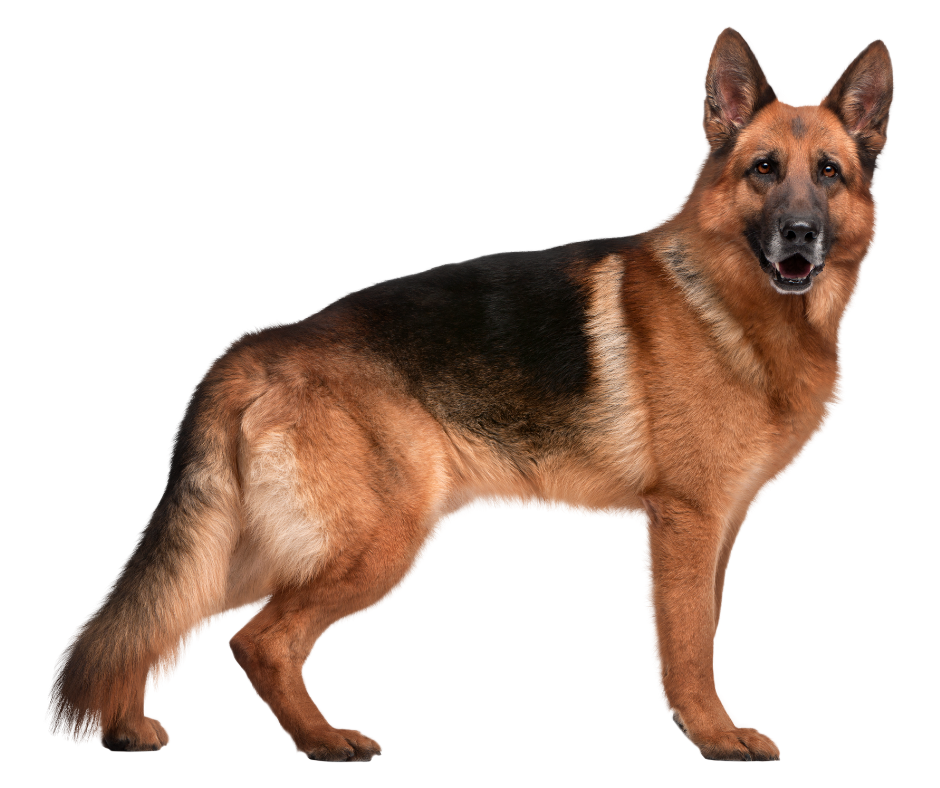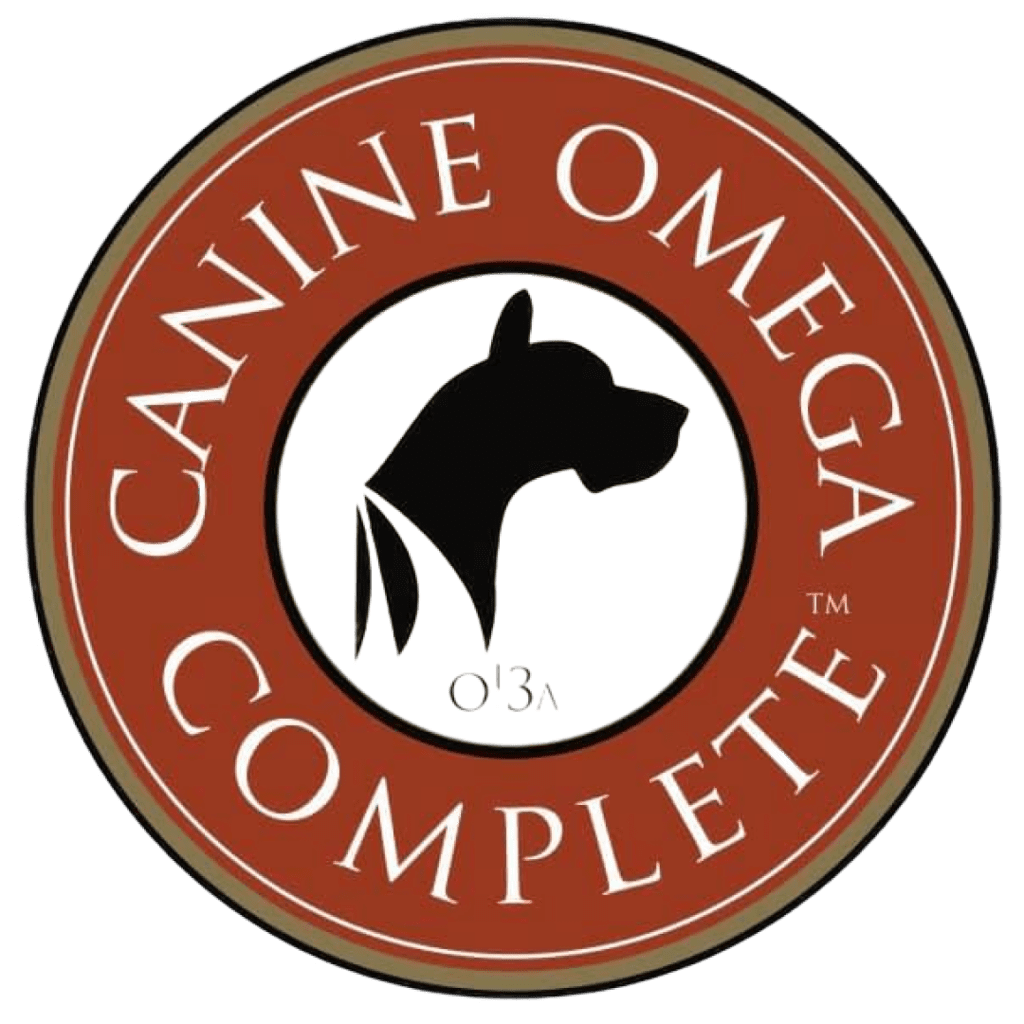 Optimal canine health and wellness can be achieved with the proper products and care. Whether your canine requires supplement products for health ailments or preventative maintenance, Canine Omega Complete® provides the utmost in canine health.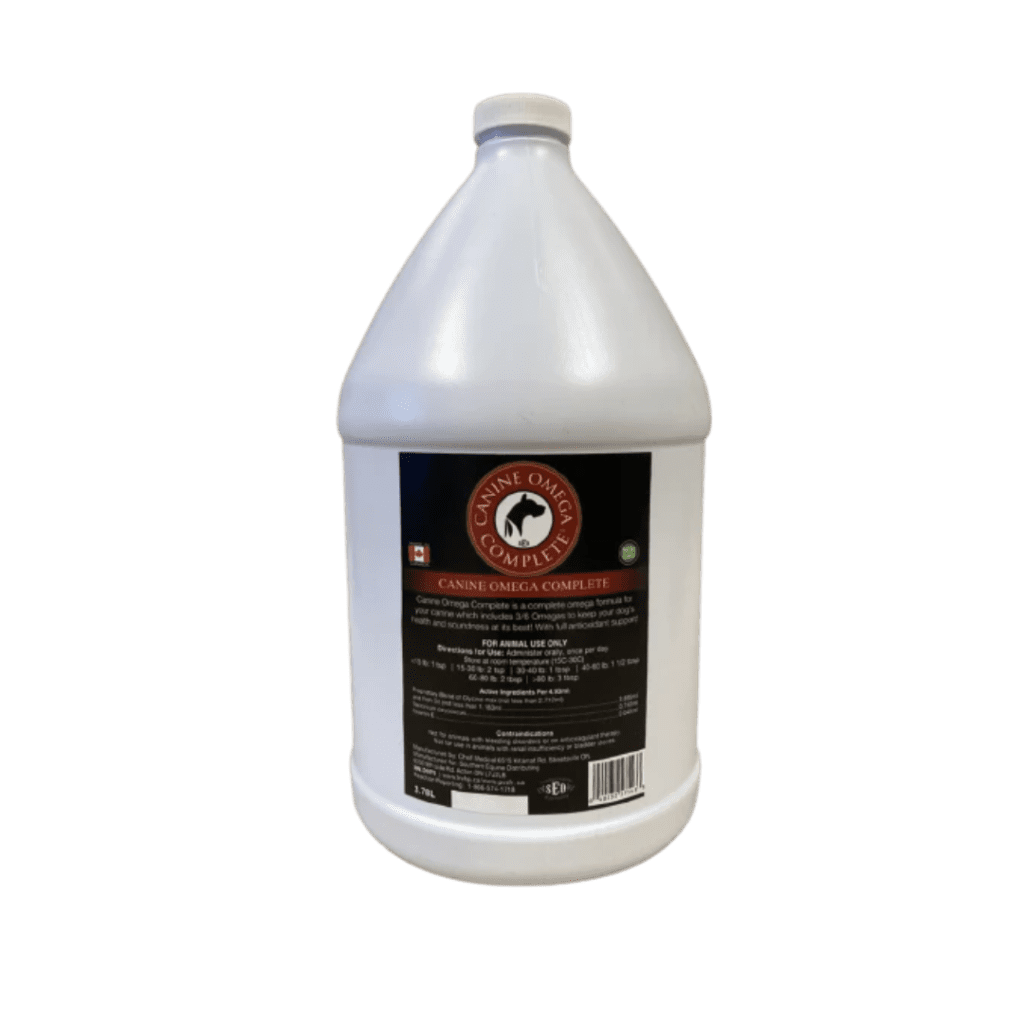 Canine Omega Complete® is a nutritious formula designed to help your dog attain the utmost health and maximum capabilities. It is made from non-GMO and organic oils that provide healthy support for any canine.
Decrease inflammation and discomfort in joints
Gain and maintain a shiny coat
Keep triglycerides at healthy levels
Reduce allergy symptoms that cause dry or itchy coats
Our customers love Canine Omega Complete®!
My 10-year lab, Gatsby "Bubba," has always been an active and energetic beast. He is the best walking buddy you could ever ask for! He, unfortunately, was involved in a 'car accident' and his rear feet were badly injured 4 years ago. He made a miraculous recovery, less one toe and a small limp to his gait. I have always supplemented him with glucosamine but found now, in his older years, that it didn't seem to be enough support for him. After being highly recommended and trying Canine Omega Complete® I have seen an almost instant improvement.

His coat is much shinier, and his skin is less flaky in the dry season. His undercoat even comes out more nicely as he does have a bit of Husky in him and leaves little tuffs all over the floor. But the largest difference I have seen is the skin on his back feet. His fur never grew back after the accident so in the winter months, his feet tend to become very dry and crack easily. What an improvement with Canine Omega Complete®! He's a much happier and more comfortable old man, and I will supplement him with this miracle juice for the remaining years we have together.
Katie Coates
I have used Canine Omega Complete® on my shepherds for two years and I am very pleased with it. My dogs' coats are full and shiny and they have lots of energy. This year I have a puppy that became our house dog. I had not started her on it just because the oil was outside. One day I came home to her lying down not eating, lethargic and running a fever. I was so worried and watched her all night then off to the vets we went. By morning she could hardly walk and was very sore in the back end. The vet said she had Panosteitis. She was put on anti-inflammatories and pain killers, but I was told she could only take it for 3 days due to her age.

I texted Robin to see if she felt Canine Omega Complete® would help. She felt yes, so she went on it and I noticed a difference within 12 hrs. Within 2 days, she was running around playing again. She will stay on it now, and hopefully, it will prevent it. This is amazing, and I am telling all my breeder friends since this can be a true issue in larger breeds when they are growing. I have tried many things and this has worked the best. Grateful for this wonderful product.
Kerry
I have a 13-year-old lab collie cross. He is an amazing dog and a puppy at heart. He will never give up on a game of fetch, but his body and joints gave him some issues. I tried using glucosamine for him, which helped a wee bit, but he was still sore and could barely move after a good walk or playing all day in the yard.

A client of mine suggested canine complete and sold me my first bottle. The same night I had given it to my dog, I swear it was a literal night and day difference. Instantly he was running around my house and was so excited and full of life! After 3/4 weeks of using the product, I had a tonne of family and friends asking if he had been groomed because his coat was shiny and beautiful. I also noticed when I ran out of the product, Scoob seemed slow again and like an old man! It's amazing stuff, and I will use it for the rest of Scoob's life. And would recommend it to all dogs!!
Nicole M.
We were having skin issues with our 2-year-old mastiff mix. She would scratch a lot to the point of having an open wound. We found her skin very sensitive to bug bites and food changes. Something had to change, so we tried Canine Omega Complete®. Within 2.5 weeks of being on Canine Omega Complete®, we noticed major changes. Her wound was healing, she was scratching less, and her coat looked better. Canine Omega Complete® has become a staple for our dog's health.
Amanda W.